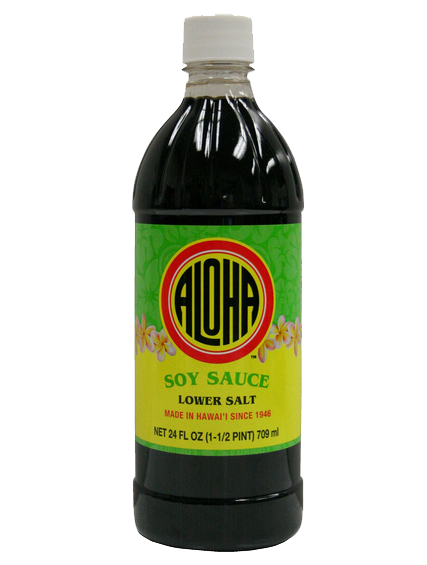 I've tasted a lot of soy sauces and my firm favorite is Aloha brand soy sauce. My preference is the lower salt one, but I like the flavor of the original too.
I cook a lot of Asian cuisines, mostly because my father was so into making Chinese food so I developed a taste for it early in life. He (my dad) was always hunting down dark soy sauce from China town or Asian markets. He used it almost exclusively because the flavor was so much better in the select recipes he used to make. I think that as a result of that, I too always searched and went out of my way to find the dark stuff. To be fair though, I could taste the difference when I was S.O.L. and had to settle for the big brand versions.
According to Wikipedia…
"Soy sauce (also called soya sauce) is a condiment made from a fermented paste of boiled soybeans, roasted grain, brine, and Aspergillus oryzae or Aspergillus sojae molds.". I found out some years back that some soy sauce is actually water with salt in it"
Keeping that in mind, I've found out that some so-called soy sauce is nothing more than water, salt and something to make it dark in color. I've noticed it being served up in a few restaurants, especially cheap buffets. Disgusting! But some mainstream grocery store brands are not much better when it comes to flavor.
Something about the deep richness of dark soy sauce, whether it's part of a recipe, sauce, dip or just sprinkled over as a condiment, there is a distinct flavor that weaker or cheaply made soy sauces just don't deliver.
A few years back a friend suggested trying the Aloha brand of soy sauce, I did and I love it. I've basically used nothing else since. It's easy to find, not overly expensive, comes in a low salt version, and tastes like the good stuff. It's made all my Asian and Hawaiian recipes taste wonderful. It gives them just the flavor I want them to have, and when I use it as a condiment, it's rich with a great after taste and doesn't just scream SALT!
I've not been paid or asked to make this endorsement, it's simply my favorite and I thought I'd share that info… but if the people from Aloha are reading this, I wouldn't say no to a free bottle or two!
Find out more about the company and it's products by visiting their website: http://www.alohashoyu.com/