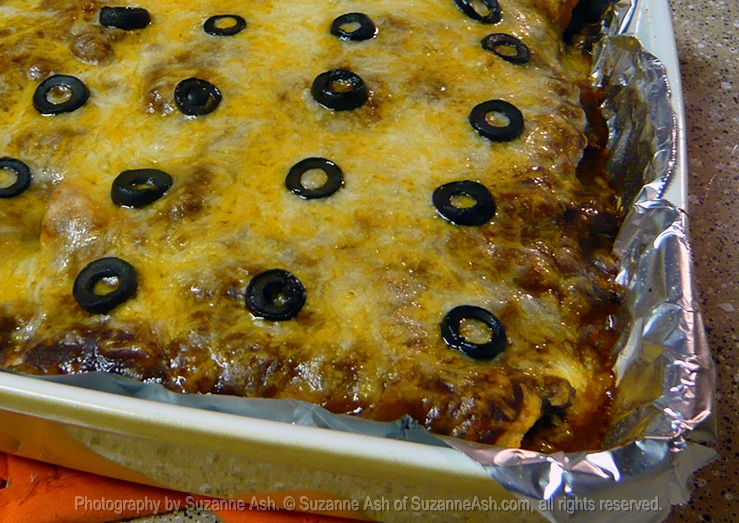 These beef enchiladas are easy and inexpensive to make, and very filling. Especially if you serve them with beans and rice. Depending on what chili powder you use, they can be mild or spicy. I like them sort of in-between.
Ingredients
Sauce
2 TBSP chili powder (I use half New Mexico & half California)
2 tsp sweet paprika
2 tsp ground cumin
1 tsp ground coriander
1 tsp onion powder
1 tsp garlic powder
1 tsp dry oregano
1/2 tsp fine sea salt
1/4 tsp white pepper
12 oz (1 1/2 cups) beef stock
1 TBSP tomato paste
2 TBSP avocado or olive oil
2 TBSP white all purpose flour
The Rest
1 lbs lean ground beef
Salt & black pepper
1 baseball size onion, chopped fine
1 tsp minced fresh garlic
1 fat jalapeno pepper, topped, seeded, and chopped fine
1 (4 oz) can of diced green chilies, drained
8 (5-inch) corn tortillas
3 oz (3/4 cup) shredded Monterey Jack Cheese
3 oz (3/4 cup) sharp cheddar cheese
Sliced olives (optional)
Sour cream to serve (optional)
Beans & Rice to serve (optional)
Instructions
Sauce
Measure out the chili, paprika, cumin, and coriander in a small bowl. In a separate small bowl measure out the onion powder, garlic powder, oregano, salt and white pepper. Whisk the tomato paste into the beef stock.
Put the oil into a 1-quart saucepan over medium-high heat. Once hot, whisk in the flour all at once. Followed by the chili mixture, keep whisking for 5 seconds, or until you can just smell the spices. Quickly, whisk in the rest of the seasonings and spices. The mixture will be very dry and sand like.
Whisking constantly, add the beef stock mixture in a fine stream. Be careful, it will bubble up violently! Whisk it until it is smooth and boiling.
Adjust the heat so that sauce is just simmering. Simmer for 10 minutes with the lid off, whisking frequently. Set aside.
The Rest
Place a large frying pan over high heat. Once hot, dry-fry the corn tortillas for 10 to 15 seconds on each side. Stack them onto a plate wider than the tortillas by several inches and cover with tin foil. Set aside.
In the same pan, turned down to medium-high heat, fry the ground beef, breaking it up with the back of the spoon as you go. Cook until it is no longer pink in the center. Season with salt and pepper. Then, remove the cooked beef to a colander and leave to drain.
Add a drizzle of oil to the pan, turn down the heat to medium and add the onion, garlic, and jalapeno. Season with a little salt and stir. Cook the vegetables for around 12 minutes, or until the onions are very soft, stirring often.
Add the cooked beef, and drained green chilies. Stir well to combine and remove from the heat.
Preheat the oven to 350f, and lightly grease an 8″x8″ (or 9″x9″) baking pan, Alternatively, you can like the pan with non-stick foil as I have done in the photo.
Add enough sauce to the prepared baking pan to just cover the bottom.
Mix the two kinds of cheese together, then reserve a 1/2 cup for the top.
Working one at a time, add a few tablespoons of meat filling to a tortilla (put in so much that you can barely roll it closed), drizzle with 1 tablespoon of the sauce, then a big pinch of cheese. Roll and place into the pan seam side down. If you have any meat leftover, just sprinkle it over the top (before the sauce and cheese).
When all of the enchiladas have been rolled and are in the pan, pour over the remaining sauce. Sprinkle over the reserved 1/2 cup of shredded cheese, and then dot with sliced olives (if using).
Bake in the preheated oven for 30 minutes. Rest the enchiladas for 5 minutes before serving.
Serve with beans & rice, and a dollop of sour cream on the side!
Makes 4 Generous Servings
Notes
Really stuff the enchiladas, there is plenty of filling!
Is this authentic Mexican food? I'm not Mexican and this is my recipe, so no, it's not authentic.