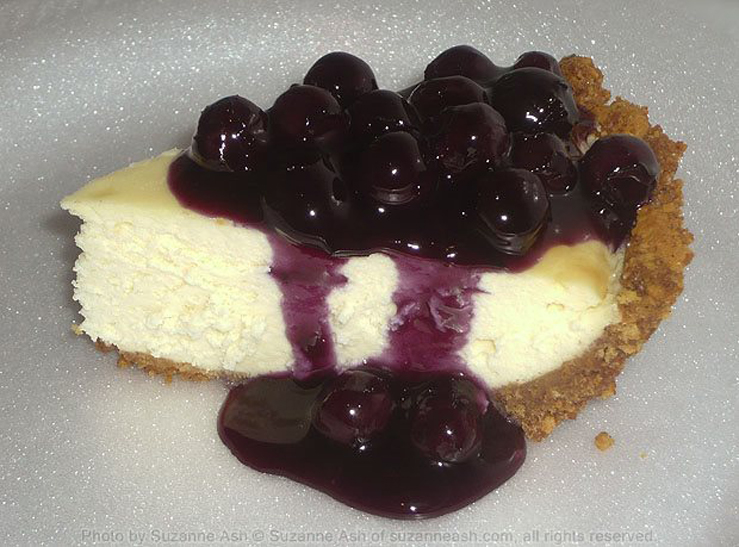 I adapted this from my mother's recipe, originally just to make a smaller version but over the years I started making it with less sugar and Philadelphia started making a really good tasting reduced fat version of their cheese so now I have the option of making the cheesecake lower in fat too.
Ingredients
Base
3/4 cup/100g fine crumbs made from graham crackers or digestive biscuits (regular or reduced fat)
2 tsp granulated white sugar
1/2 tsp cinnamon
2 TBSP melted butter flavored spread or butter
Filling
1 lb/450g Full fat or reduced fat Philadelphia brand Cream Cheese at room temperature (don't use extra light)
1/4 cup/60g granulated white sugar
2 medium eggs
1/4 tsp vanilla
Topping
12oz/340g frozen blueberries
3 heaped TBSP granulated white sugar
1 TBSP water mixed with 1 TBSP corn starch (corn flour)
water
Instructions
Preheat the oven to 180c/350f, set out a 7″ spring form or loose bottom cake pan and line with a parchment collar (see picture below).
For the Base
Combine all the base ingredients and press into the cake pan in an even well packed layer.
For the Filling
In a mixing bowl, whip the cream cheese and sugar together with an electric mixer for 2 minutes then using a spatula scrape the sides and bottom of the bowl.
Add the eggs and vanilla, beat for a further 2 minutes.
Pour over the prepared base and place in the oven to bake for 35 minutes.
To test if the cheesecake is done shake the pan very gently and watch the center to see if it's solid, it shouldn't jiggle but if it does return the cake to the oven for a few more minutes. It is completely normal for the top to start to brown and occasionally you may see small cracks beginning to form.
Once the cheese cake is finished cooking, cool in its pan on a wire rack until it is at room temperature.
Once the cheesecake is at room temperature, remove the lining and put the cheesecake in the fridge for at least 4 hours or overnight.
For the Topping
In a small bowl mix the cornstarch (corn flour) and 1 TBSP of water to form a paste, set aside.
Put the sugar and berries in a saucepan, pour over enough water to just cover the berries.
Place over a medium heat and bring to a simmer, stir occasionally.
Once the berries are simmering, remove the pan from the heat and stir in the cornstarch mixture.
Return the pan to the heat and stirring constantly bring it back up to a simmer.
Once thickened (about a minute) remove the pan from the heat, empty the berries into a heatproof bowl and leave to cool to room temperature.
Store in the fridge until ready to use.
To Serve
Remove from the refrigerator and leave to sit at room temperature for half an hour before slicing. Spoon blueberry sauce over individual slices just before serving.
Makes 6 to 8 Servings
Notes
No springform or loose bottom pan? Make this in a pie tin and serve just as you would serve a pie (main picture).
Don't use extra light cream cheese or your cake will be like chalk in your mouth.
How to line the pan —>
<— Cheesecake made in a loose bottom pan with extra thickened blueberry topping poured over before chilling – triple the cornstarch and water (3 TBSPs of each) for this version, otherwise follow the rest of the recipe as written.