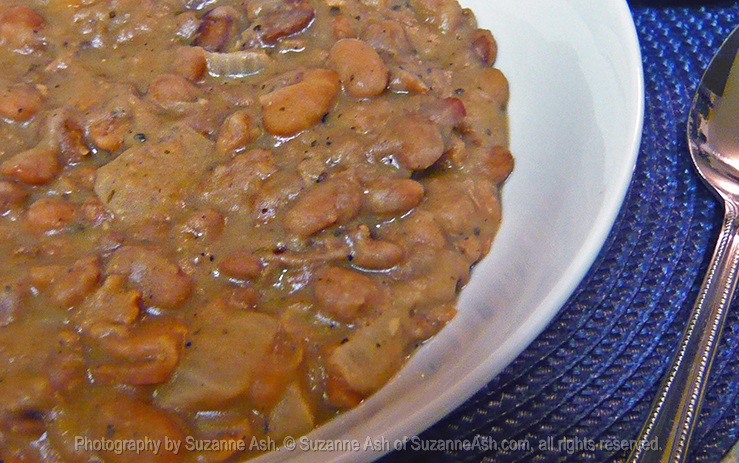 So why the quote marks? Because there are so many types of beans out there, but my family has always called this type of beans just "Beans". When I was growing up my father made beans so often we nearly always had some in the fridge, and when we said we were hungry he always replied, "how can you be hungry when there are beans?". Sometimes my father made them with bacon, sometimes with a ham hock, sometimes just with salt and pepper and they were always good. Though I didn't really appreciate them until I was an adult. Now, I love them so much I could eat them every day. I don't, but I could! The recipe below is for my version of "Beans". I like to serve them with cornbread and have the infamous "Beans & Cornbread" for supper. I also like them with rice, or with cold mac-n-cheese. Ya, I know it's weird, but that doesn't stop me.
Ingredients
1 lb dry pinto beans, picked over and rinsed
1 tsp baking soda (optional)
6 slices of bacon (see notes)
1 medium size onion, chopped
1 generous tsp Italian Seasoning
1/2 tsp EACH fine sea salt and fresh ground black pepper, or more to taste
Some tips for before you start!
– Don't add any salt until the beans are ready to serve, the bacon may be more or less salty than you expected.
– The baking soda helps keep the "fartiness" to a minimum (yup, fartiness).
Instructions
Add the prepped beans to a 5 or 6-quart pot and cover with 3 inches of cold water.
Stir in the baking soda (if using)
Place over medium-high heat and bring to a boil, stirring now and then.
Once boiling, boil for 3 minutes. Remove from the heat, put on the lid and leave to soak for 1 hour.
When the beans have soaked for one hour, pour them into a colander, and rinse them.
Rinse out the pot and return the beans to it. Add enough fresh water to cover the beans by a half inch.
Place over medium-high heat and bring to a boil, stirring occasionally. Skim off the white froth.
Once boiling, reduce the heat to maintain a gentle simmer. Simmer with the lid off for 30 minutes, stirring occasionally.
Meanwhile, slice the bacon into 1/4 inch pieces and place into cold frying pan. Place the frying pan over medium heat and cook until the bacon is crisp and the maximum amount of fat has been rendered.
Strain out the bacon pieces and let them drain on a paper towel. Remove all but a few tablespoons of the rendered fat from the pan.
Add the chopped onion to the pan, and saute until softened, about 5 minutes. Then, stir in the garlic. Cook garlic stirring constantly for 1 minutes, then add the Italian Seasonings and cook, stirring constantly for 1 more minute. Remove from the heat.
When the beans have cooked for 1/2 an hour, stir in the cooked bacon pieces and cooked onion mixture.
Continue to cook the beans for a further 15 minutes to half an hour, or until the beans are your desired softness (I like them to be soft, but still hold their shape).
Add salt and pepper, taste and correct the seasoning, if needed.
Serve immediately, or cool and refrigerate, or cool and freeze.
Keeps in the fridge for a week, and in the freezer for 3 months. Defrost completely before reheating. Reheat gently in the microwave or fry in a pan. Add a little water when reheating, if necessary to achieve the desired texture.
Makes Approximately 6 Cups / 4 Servings
Notes
If you buy cheap thin bacon, you'll probably need to use 12 slices or buy good bacon just for this recipe.
At step 12, you could continue to cook and stir the beans until they are nearly completely smooth. This is basically how you get "refried beans", although it's actually "well-fried beans". Unless you fry them twice. Check out THIS link for more info on why they aren't RE-fried.
To use them as you would canned beans; After stage 8, cook the beans until they are JUST tender. Then, drain them and cool them in a colander until they are at room temperature. Then divide them into three portions and freeze. They'll keep for around 3 months in the freezer and you can use them just as you would canned beans. One portion being equal to a bit more than one can.