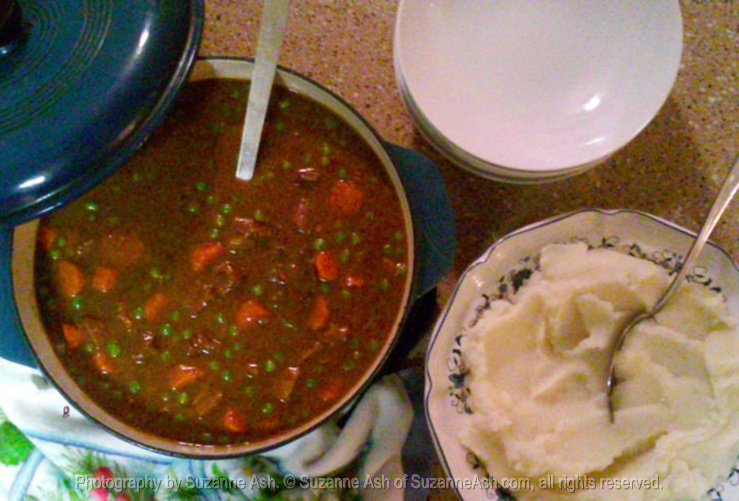 Please excuse the photo! My camera battery was flat when I went to get a picture and I ended up having to use my phone. Needless to say, my phone camera isn't very good. I'll try to remember to replace the photo later, but chances are I'll just forget. So anyway…
In the Winter, especially when the weather is miserable cold outside, a warm hearty dinner can make everything feel better. It was love at first bite when I tried beef stew with mashed potatoes on the side. Something about the contrast between the rich deep beef and wine flavored stew and the soft starchy cloud of potato just hugged my soul and made me feel happy from my head to my toes. This is my version of the one I tried in a little pub where I first lived in England. Their version had pearl onions in the stew and cranberry sauce on the side. Although it was interesting I don't think it needs the cranberry sauce, and chopped onion is easier.
Ingredients
1 tsp fine sea salt
1 tsp fresh ground black pepper
1/4 cup all-purpose flour
2 TBSP cornstarch
2.5 lbs beef chuck roast, cut into 1″ cubes
Oil for frying
1 large onion, chopped
1 TBSP finely minced garlic
1 TBSP tomato paste
1 cup red wine
2 cups beef stock
1/2 tsp dry rosemary
1/2 tsp dry thyme
1 tsp parsley flakes
1 large (or two small) bay leaf
6 medium carrots, cut into 1/4″ rounds
2 cups frozen peas
Salt & Pepper
Mashed potatoes to serve
Instructions
Whisk together the salt, pepper, flour, and cornstarch in a large bowl. Add the cubes of beef, and toss (hands are best for this) until all the cubes are coated evenly on all sides. Do not discard the leftover flour mixture!
Heat a 5 to 6-quart dutch oven over medium-high heat, once hot add enough oil to just coat the bottom. Add some of the beef cubes to the pan, leaving at least an inch in-between each piece.
Fry until well browned on at least two sides. Remove to a bowl and repeat with the rest. Add more oil as needed. If any of the flour mixture remains, sprinkle it over the browned beef and set aside.
In the same dutch oven, add the onions and garlic. Cook and stir for a few minutes, until the onions start to soften. Add the tomato paste, cook and stir for at least a minute.
Add the wine and scrape off any bits stuck to the bottom of the pan (deglaze). When the wine starts to simmer, add in the beef with any accumulated juices, as well as the stock, and herbs.
Stir, and bring to a boil. Once boiling, back the heat down to a gentle simmer and cover with the lid.
Cook at a simmer for about 60 to 75 minutes, stirring every 15 minutes. Test the meat at 60 minutes, it should be just starting to become tender. If not, cover and continue to simmer. When the meat is just beginning to get tender, stir in the carrots. Cover and continue to cook for 20 minutes. Then, stir in the peas, cover and cook for 10 more minutes. Taste and correct seasoning, if needed.
Serve the stew in large bowls alongside mashed potatoes, or over the mashed potatoes like a savage.
Makes 6 Servings
Notes
I've never frozen mashed potatoes, but the stew freezes really well. Just cool it first before placing in a zip-top bag, and freeze it for up to 3 months. To reheat, defrost in the fridge overnight and reheat gently on the stove for best results.
If you don't want to make this recipe with wine, you can just use an extra cup of beef broth, with a few tablespoons of red wine vinegar stirred into it. Although, the final taste will not be the same.
You could use less beef and more veggies, but no one will like you.