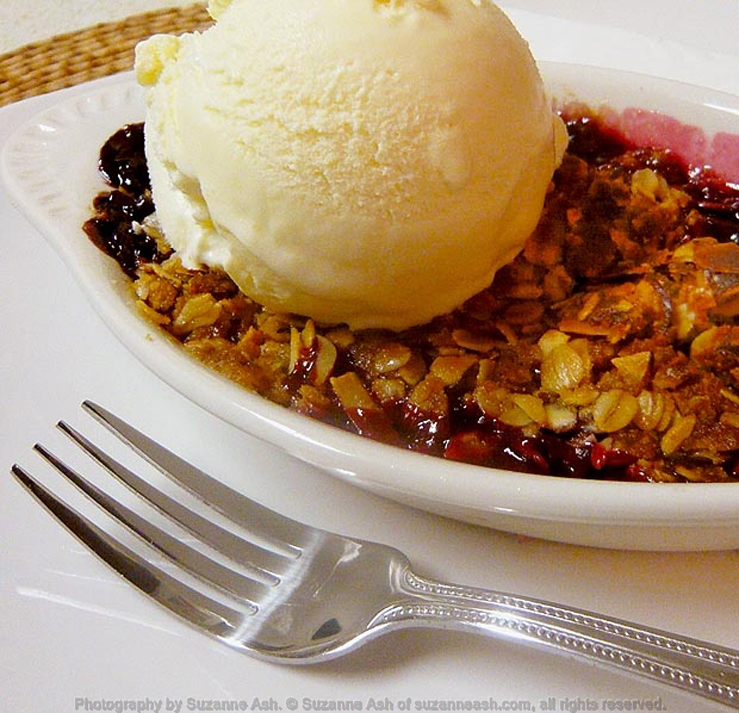 My husband and I celebrated our 4 year wedding anniversary with a home cooked BBQ steak dinner and these Britishy little berry crumbles, which are also called a crisp in some parts of the world. You might think they are a healthy alternative to a chocolate dessert and much less romantic… but they are lovely and sweet and crunchy and buttery and with the melting ice cream on top they are pretty sexy! Don't let the fruit and oats fool you, these are a decadent special occasion worthy treat.
Ingredients
A little butter for greasing the pan(s)
For the Fruit Base
1 1/3c/200g of unthawed frozen mixed berries
1/4c/50g white granulated sugar
1/4 tsp cinnamon
1 1/2 TBSP/20g cold butter, cut into small pieces
For the Crumble Top
scant 1/4c/25g all-purpose flour
2 TBSP/25g cold butter, cut into small pieces
1oz/25g flaked almonds
2 TBSP/25g light brown sugar
generous 1/4c/25g old fashion oats
To Serve
Vanilla ice cream (NOT optional, ok ok it is)
Instructions
Lightly butter two small oven-proof serving dishes (I use single serving au gratin dishes) OR a small casserole dish.
Place the berries in a metal or glass bowl (to prevent staining) and sprinkle over the sugar, cinnamon and butter pieces fold together gently. Spoon into baking dish(es) and create an even layer.
Place the flour and butter in a separate bowl and rub with your fingers to work the butter into the flour. When you have a mixture that resembles coarse breadcrumbs add the sugar, almonds and oats. Fold together gently and then spoon the crumble mixture over the center of the berries.
Cover and refrigerate for at least 20 minutes.
Meanwhile, place a baking sheet in the oven and preheat to 350f/180c.
Put the crumble(s) on the baking sheet in the preheated oven and bake for 30 to 40 minutes, or until golden brown and crunchy on top.
Let cool for at least 15 minutes before serving.
Serve by spooning into serving dishes or if you used two serving dishes just top with a scoop of vanilla ice cream.
Makes 2 Servings