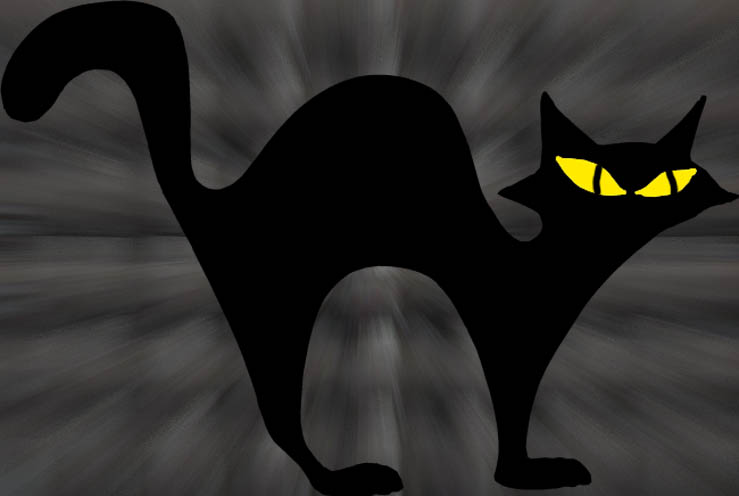 These are a really good alternative to sugar cookies when it comes to making something that can be festively decorated. You could leave out the filling and just have chocolate cookies, you could cut them into rectangles and put ice cream in the middle of them for ice cream sandwiches, and you could put colored sugar on top before you bake them. Cool and scary, huh?
Ingredients
1 & 1/2c all purpose flour + extra for rolling
1/2 cup dutch process cocoa
1 tsp baking powder
1/4 tsp baking soda
1c granulated white sugar
10 TBSP very cold butter cut into tiny cubes
1 egg beaten with 1 TBSP water & a little black food coloring (optional)
4 TBSP butter at room temperature
4 TBSP shortening
2c powdered sugar, sifted
2 tsp vanilla extract
A little food coloring (optional)
Instructions
Put the flour, cocoa, baking soda, baking powder and sugar into a food processor. Pulse to combine.
Add the butter cubes and pulse until the mixture resembles fine crumbs.
Add the egg mixture to the food processor and pulse until the mixture comes together.
Cover in plastic wrap and chill in the fridge for 20 to 30 minutes.
Meanwhile, line two baking sheets with parchment or silicone mats.
Once chilled, turn out the dough on a floured surface and knead gently for a few seconds.
Form into a disk and roll out just as you would pie crust or sugar cookie dough.
The dough should be about a 1/4″ thick before you begin cutting it out.
Use cookie cutters, a round biscuit cutter for a more traditional look, or you could even use a knife and cut them into squares.
All the cookies should be around 2″ wide/long and 1/4″ thick.
Continue re-rolling scraps until you can't cut any more out of the dough. Aim for an even number of cookies.
Place on the baking sheets with a good 1/2″ in-between each cookie. All the cookies should fit on just two baking sheets.
Chill the cookies for 20 minutes while you preheat the oven to 375f.
Bake each batch of cookies one at a time in the middle of the oven, for 12 to 15 minutes.
Cool on the baking sheet for 5 minutes before removing to a cooling rack to cool completely.
While the last batch of cookies is on the rack cooling, make the filling.
Cream the butter, shortening, vanilla, and coloring (if using) together until well mixed and creamy.
Add the powdered sugar and mix on low until just moistened, then beat on high for 2 minutes.
Scrap down the bowl and beat on high for 1 more minute.
Place into a piping bag or zip-top bag and pipe into the middle one cookie, then top with another.
Squish just enough to bring the filling to the edge, repeat with all the cookies.
Makes 24 to 30 Sandwich Cookies
Notes
YES, I WILL BE REPLACING THAT REDICULOUS PICTURE WHEN I GET A REAL ONE!
Really aim to make these cookies 2″ wide and 1/4″ thick so they'll bake properly.