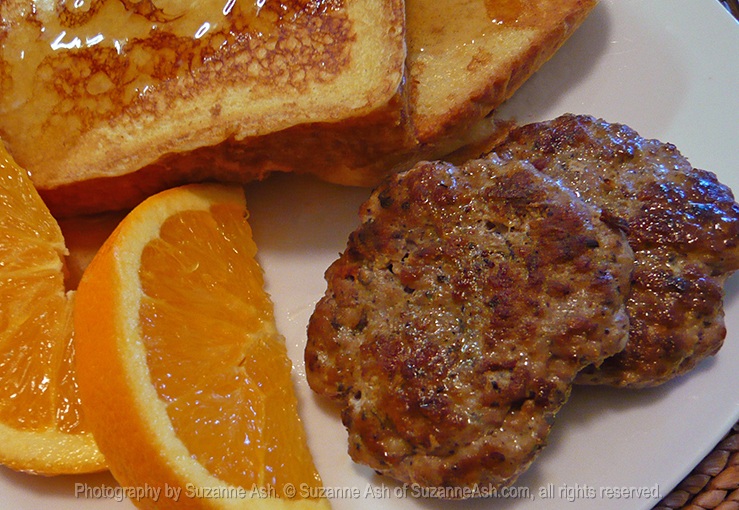 There is a serious lack of decent breakfast sausage where I live. I admit I've not gone to a butcher, but in the half dozen shops that I've been to and of the dozen or so brands I've tried I've been mostly disappointed. It's pork, with spices in it. How is it so hard to make something that doesn't taste like anything but grease and salt? Or overpowered with spices which are especially unpleasant when they are also of the rubbery "precooked" variate. I put precooked in quotes because I'm unsure if being sealed into a packet with heat to preserve it, that also happens to cook it, qualifies. Anywho, try making your own, even if you use store-bought ground pork!
Ingredients
1 lb ground pork
1 large egg
1/2 tsp dried parsley flakes
1/2 tsp dried thyme
1 TBSP rubbed sage
1/2 tsp sweet paprika
1/4 tsp dried coriander
1/2 tsp fresh ground black pepper
1 tsp fine salt
1/8 tsp cayenne pepper or red pepper flakes (optional)
Instructions
Combine all the ingredients in a large bowl and mix gently but thoroughly, cover tightly with plastic wrap and refrigerate for at least 1 hour, but overnight is better.
Weigh or eyeball divide into 8 even portions, roll into balls and then flatten into 1/2 inch patties. Press your thumb into the middle of one side to make flatter patties when cooking.
Wrap tightly and refrigerate for up to a few days (dependent on how fresh your pork is) OR freeze for up to 3 months.
To cook, fry uncrowded in a skillet over medium heat (drizzle pan with oil if not non-stick) and cook until cooked through. About 6 to 8 minutes, turning half way.
If frozen, defrost completely in the refrigerator (overnight generally) before cooking.
Makes 8 Patties / 4 Servings
Notes
I know that a lot of recipes say to grind your own meat, but I don't have a grinder and I don't like what the food processor does to meat. But, if you have one, of course, feel free to grind your own!
Sometime, when you're feeling like something different, try adding a few tablespoons of panko breadcrumbs and a 1/2 cup of grated apple to the sausage mix.