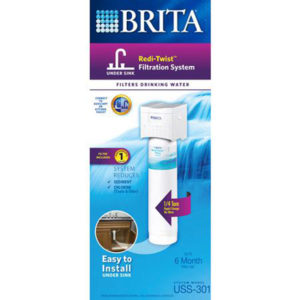 My favorite drink is water. In my house we drink loads of water every day. I personally drink around six to eight 8oz glasses per day in addition to several glasses of hot and cold tea as well as flavored water drinks. But drinking water isn't the only way we use our water, we also cook with it so it affects our food taste too. Now, our tap water wasn't horrible but it wasn't pleasant to drink either. We didn't extravagantly use bottled water for cooking or even in our kettle for tea; we also didn't use it for mixing drinks. We stuck to just drinking it, and even then we did it sparingly because it's something we included in our grocery budget and we couldn't afford to drink 3 or 4 bottles a day. We ended up drinking a lot more flavored water to mask the slightly chlorine taste of our tap water. Not the healthiest of options but we live in California and it's hot here most of the year and we need to keep hydrated.
So we needed a solution that we could afford and since we live in an apartment and the fridge that comes with our apartment is not the kind with a water dispenser our options were limited. Installing anything into an apartment is generally a no-no. Then I found this under-the-counter water filtration system that seemed too good to be true. I researched the best I could and came up with mostly positive reviews so I decided to give it a try.
The package I bought came with the complete system & one filter, so basically everything you need except the tools to install it. It's just two screw holes as far as damage to the apartment, and since it's under the sink I doubt anyone will even notice it. Regardless, the holes could just as easily be filled like walls where a picture has been hung and removed.
It was super easy to install, I did it myself in about 10 minutes. The instructions were clear and I had no problem following them. We've been using this system for a year now and we love it. Our water tastes great so we drink a lot more than when we were buying bottled water. It has also improved the taste of our coffee & tea as well as our mix-it-yourself juice drinks, water flavoring drinks AND our food that we cook in water like noodles or veggies.
We've ended up replacing the filter every 6 months. I do mark it on the calendar but I've forgotten each time and each time we can actually taste when the filter stops working. It's been dead on 6 months each time.
My only complaint is that the cold water side of our kitchen sink doesn't have as much water pressure as it did without the filter system. We've lived with it for a year now and gotten used to it. The system is cheap to maintain and saves us loads of $ so we think it's worth it.
So it's nearly all good news and I definitely recommend this product, the bad news (besides the lowered water pressure) is that the best place to buy it is Walmart. I'm not a big fan of this retailer for a whole lotta reasons, but I've got the system now and they've got the filters. I've tried pricing it other places and found that the system itself with one filter can be as much as double in price on Amazon. I've not tried the 2nd level filter because I bought a twin pack last time, I will definitely try one next time I order.
Oh, I nearly forgot to put some numbers to this! I estimate we saved around $250 this year by buying this system. The system costs less than $40 and the filters are less than $20 at the time of me publishing this article.
Here are the links for the system and the filters…