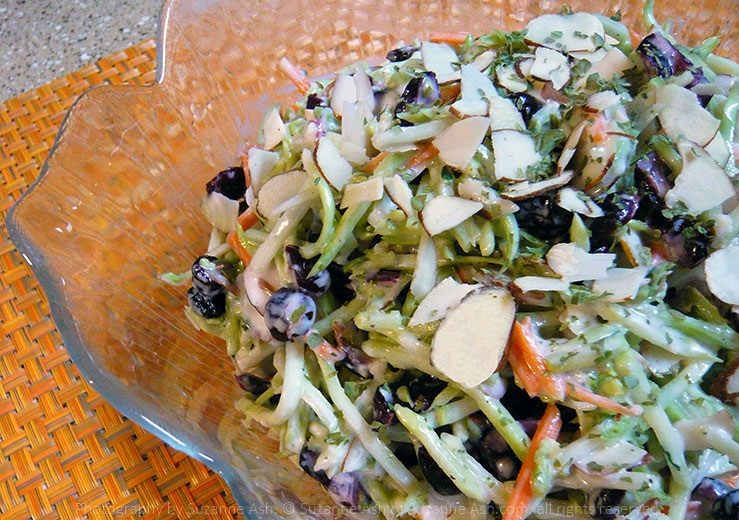 I don't normally like prepackaged stuff, but I like being able to throw together a nice dressing and toss in store-bought broccoli slaw or broccoli salad mix. It saves a lot of time, and it still tastes great. If you prefer you can grate your own veggies (see notes).
Ingredients
1/3 cup mayonnaise (can be low or no fat)
1/3 cup plain greek yogurt (can be low or no fat)
2 TBSP apple cider vinegar
2 TBSP honey
1/2 tsp fine sea salt
1/4 tsp fresh ground black pepper
12 oz bag of broccoli slaw mix or broccoli salad mix
1/2 cup sliced almonds
1/2 cup craisins (dried cranberries)
1/4 cup finely sliced green onions (white and green part)
Instructions
In a large serving bowl, whisk together the buttermilk, yogurt, vinegar, honey, salt, and pepper.
Add the slaw mix, onions, almonds, and craisins. Toss gently to coat.
Cover tightly and refrigerate for 2 to 6 hours. Toss gently before serving.
Makes 4 Servings – This recipe is easily doubled
Notes
Store leftovers in an airtight container in the fridge for up to 3 days.
You'll need 6oz grated broccoli, 2oz grated carrot, and 4oz shredded cabbage if you prep your own veg.