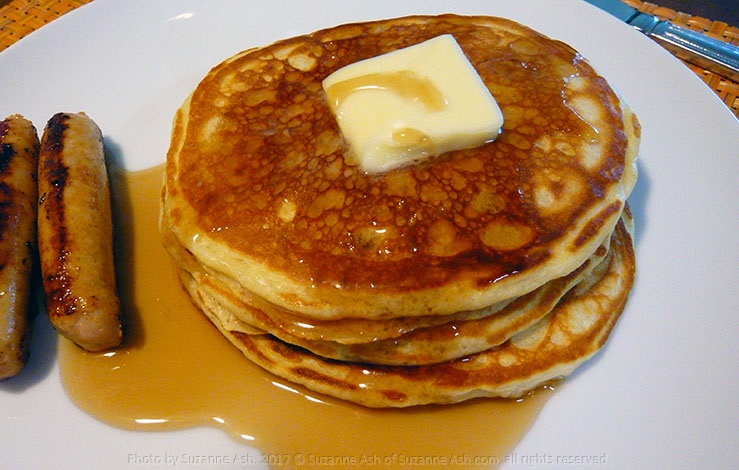 I have been guilty in the past of using pancake mix. It's cheap, it often only needs water added, and it's quick to make. Plus, maybe (MAYBE!) to feed a crowd of people it's the simplest solution. However, this recipe for buttermilk pancakes takes just a few minutes more than a mix. The ingredients will cost more, but the flavor is fantastic. These are hands down the best pancakes I've ever made.
Ingredients
1 & 1/2 cups all-purpose flour
2 TBSP granulated white sugar
1 & 1/2 tsp baking powder
1 tsp baking soda
1/4 tsp fine sea salt
1 & 1/2 cups buttermilk (see notes)
1/4 cup milk
1/2 tsp pure vanilla extract (optional)
2 large eggs
3 TBSP butter, melted
Oil or cooking spray for the griddle
Instructions
In a large mixing bowl whisk together the flour, sugar, baking powder, baking soda, and salt, then make a well in the center and add in the melted butter, buttermilk, milk, vanilla, and eggs. Whisk gently, just until no large pockets of dry ingredients remain. The batter will have some lumps, don't try to whisk them out.
*Meanwhile, heat a griddle or fry pan (I use an electric griddle) to medium-high(ish)/325f. After the griddle gets to temperature, brush or spray lightly with oil (I use coconut oil spray).
Drop by 1/4 cup portions, leaving a few inches space in-between. Cook until small bubbles begin to form on the surface and the sides look dry, this should only take a few minutes. Flip them gently, and cook for 1 to 2 minutes, or until lightly browned. Resist peaking for at least one minute!
Serve Immediately, or stack and cover loosely with kitchen foil until all the pancakes are cooked.
Makes 12 Five Inch Pancakes – This recipe is easily doubled
Notes
*If you have time, leave the batter to rest for 5 or 10 minutes. It will produce lighter, fluffier pancakes. No need to stir it before using.
I have tried beating the egg whites separately with a pinch of cream of tartar and the sugar. Otherwise making the batter exactly the same way, and folding the egg whites in at the end. I didn't see a huge amount of difference for the extra work/time/dishes so I just do it as written above. The only exception being when I do a low-fat version (next note down), and even then, I found that if I rest the batter at room temperature for half an hour it yields better results than beating the egg whites separately.
I've used low fat and full-fat buttermilk to make this recipe. When I want pancakes as a treat, I splurge with full fat. If it's pancakes as part of a not so terribly bad for me/make the weekend nicer breakfast I use low fat and sometimes even sub in a bit of apple sauce for the butter. I know that full-fat buttermilk will make much nicer pancakes, but the low-fat ones are actually pretty good too.
You can keep these pancakes loosely covered with kitchen foil in the oven on the lowest setting for up to an hour.
To store leftover pancakes; cool to room temperature, seal airtight in a zip-top bag with layers of either plastic wrap/parchment/wax paper in-between. Refrigerate for a few days or freeze for up to a month.
Never leave pancakes out at room temperature for more than an hour. Why? Goblins! Well, and food poisoning… but mostly goblins.