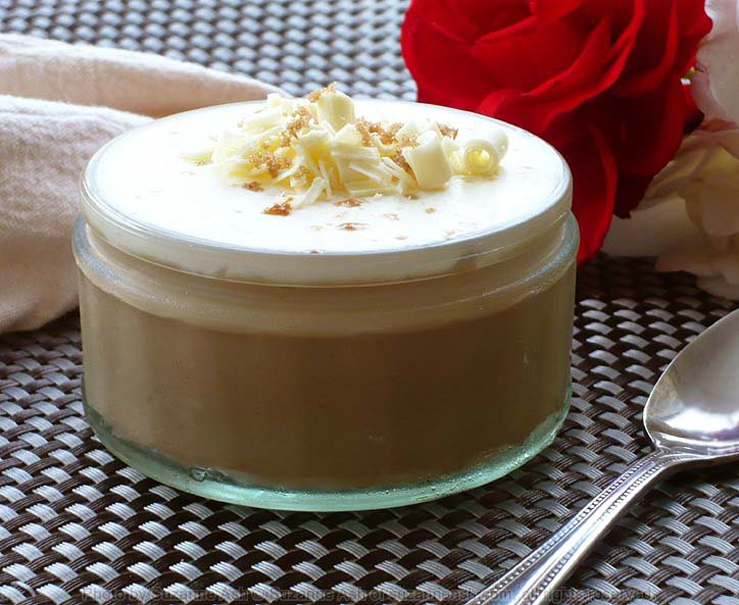 As an American, butterscotch pudding mix is something I grew up with. In fact I think for most people that is how butterscotch pudding is made full stop. In the past I have made homemade vanilla and chocolate puddings before but up until a few years ago I had never even eaten homemade butterscotch pudding. I was surprised at how simple it is to make, really it is nearly as fast and easy as a package mix but with slightly more whisking. The flavor you get for that little extra bit of time and whisking makes it more than worth it.
Ingredients
2c/475ml full fat whole milk
1/2c/65g dark brown sugar
2 heaped TBSP corn starch
3 egg yolks
pinch of salt
1 tsp vanilla extract
1 TBSP butter, cut into 4 chunks
Instructions
! You'll need a saucepan large enough to hold the ingredients for the whole recipe with room to spare.
Put the sugar, cornstarch and egg yolks in a the saucepan, add a pinch of salt and whisk until well combined (it will be very very thick). Set aside.
Measure out the butter and vanilla, set aside.
Put the milk in a microwavable measuring jug with a pouring spout. Microwave the milk on full power for around 5 minutes (it varies depending on what microwave you have) or until it just starts to boil, remove it before it boils over.
Pour the boiling hot milk (strait from the microwave, no cooling at all) in a slow steady stream into the egg mixture while whisking constantly.
Once all the milk has been added, place the pan over medium heat and continue to whisk constantly until it goes thick. Once it thickens, cook for 1 more minute, still whisking constantly.
Remove from the heat and immediately whisk in the butter and vanilla, continue to whisk until the butter is completely melted and well blended. It might look a little thin but it will thicken considerably once it has cooled.
Put the hot pudding into a bowl or bowls and cover with plastic wrap, push the plastic wrap down onto the pudding's surface and try to smooth out any bubbles. Leave to cool until warm and serve or once it has cooled to warm, refrigerate until cold and serve.
Makes 4 Servings – Needs to be eaten within 24 hours
Notes
Pushing the plastic down onto the pudding prevents "pudding skin".
If you have a stove that needs time to heat up (like electric) then make sure you get it heating while the milk is in the microwave.
If the milk boils over, you will need to top it up to the correct amount and reheat it to boiling again.
After 24 hours it will start to split and go grainy, it is still ok to eat but it will look odd and have an unpleasant texture.
In the picture I topped the pudding with whipped cream, smoothed it over and sprinkled on shaved white chocolate and raw brown sugar. It was purely for presentation and did not add anything to the flavor.