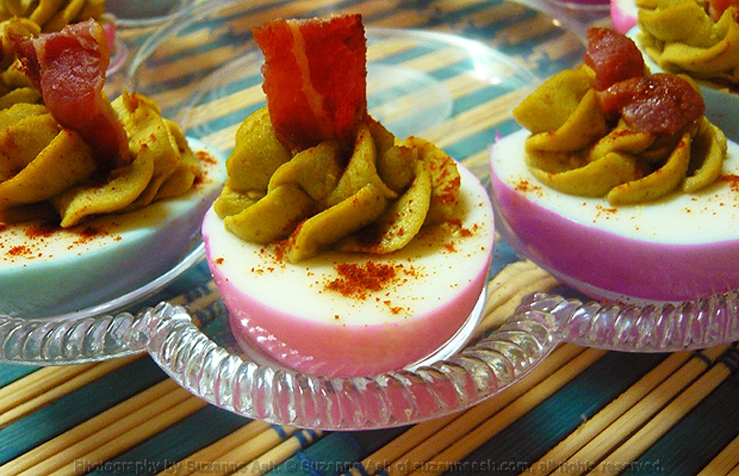 I really like deviled eggs and this variation on the classic is definitely a new favorite. I thought I'd schmancy them up for the picture since it's so near the bunnies and eggs holiday, but it isn't necessary because they look and taste great without the extra effort. Though, the California twist does turn the filling green in color, which I quite like.
Ingredients
6 hard boiled eggs, peeled, cut lengthwise, yolks removed
1 small ripe avocado, pitted and peeled (about the size of a baseball)
1 TBSP lime juice
1/4 tsp sea salt
1/4 tsp onion powder
1/4 tsp garlic powder
1/4 tsp California chili powder
1/4 tsp wasabi paste
1 slice of bacon, cooked crisp and cut into 12 pieces
paprika for finishing
Instructions
Put all the ingredients except the egg whites and bacon into a deep bowl and beat with an electric hand mixer until smooth.
Spoon or pipe filling into egg white halves, be generous!
Sprinkle each filled egg with a pinch of paprika and top with a piece of the bacon.
Cover and refrigerate for 1 hour before serving.
Makes One Dozen
Serve immediately or store covered in the fridge for up to 36 hours.
Notes
In the picture I've dyed the cooled, peeled eggs for half an hour in 1 cup of room temperature water and a tiny bit of food coloring (I dipped the tip of a toothpick in Wilton icing coloring). Then I rinsed and dried them before slicing.
You could use more wasabi and/or sprinkle with hot paprika if you want more of a kick.