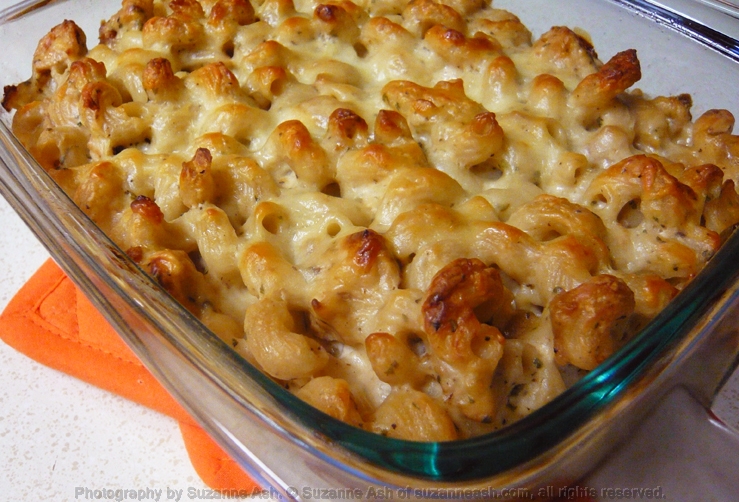 So just for fun, I've given this recipe a spooky October/Halloween name, but you could just call it Chicaroni, or (because that is pretty silly too) you could call Italian Mac-n-Cheese. It's really easy to make too, you can use the same pot for the pasta, meat and sauce! It's a lovely change to the usual cheddar sauce, but still rich and creamy with a bit of a herby taste… It's definitely not diet food, in fact, it's pretty calorific, scary huh?
Ingredients
1/2 lb of double elbow macaroni (cavatappi)
1 TBSP olive oil
1 small onion, chopped
1 tsp minced fresh garlic
1 lb raw chicken breast meat, cut into 1/2″ cubes
2 tsp Italian Seasoning
2 TBSP dry vermouth or water
8 oz cream cheese
1/2 cup milk
8 oz/2 cups shredded Italian cheese Blend
1 tsp parsley flakes
Salt & Black Pepper to taste
butter for greasing
Instructions
Cook the pasta according to instructions on the packaging, drain, rinse and leave in the colander.
In the pot you cooked the pasta in, add the oil and onion.
Cook the onion over medium heat until it begins to brown, then add the garlic.
Cook and stir for 1 minute, then add the chicken.
Cook and stir the chicken until it is no longer pink on the outside.
Splash in a few tablespoons of dry vermouth or water to deglaze the pan.
Continue to cook and stir until all the liquid has evaporated.
Pour the chicken mixture out on top of the pasta in the colander.
Add the cream cheese and milk, stir breaking up the cream cheese until it's nearly melted into the milk.
Turn off the heat, stir in 1 & 1/2 cups of the shredded cheese until you have a thick, smooth sauce.
Stir in the pasta and chicken, the parsley and season to taste with salt and pepper.
Butter the bottom and sides of a baking dish and pour in the pasta mixture.
Sprinkle the remaining 1/2 cup of cheese over the top and place in the middle rack of a cold oven.
Set the oven to 350f, and bake the Chicaroni for 30 minutes, or until the top is nicely browned.
Let stand for 5 minutes before serving.
Makes 4 to 5 Servings – Goes great with a green salad and/or side of broccoli
Notes
You could leave out the chicken, or replace it with another meat.
You could stir in peas when adding the pasta and meat to the sauce, for a one-dish meal.
You could use shredded mozzarella and a bit of parmesan instead of the Italian cheese blend.
You could use cream instead of milk, to add calories, if you're so skinny that you need to gain weight… damn you.
Kids like, it, even if they look scared before eating it.