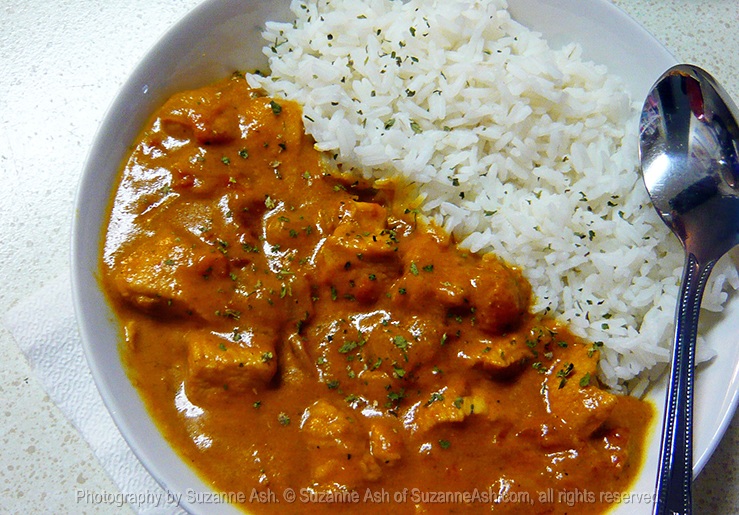 So, this is my third chicken curry recipe. It's "the easy one". No special ingredients, nothing exotic you have to order off the internet, nothing you can't pronounce or don't know what it is. Yet, for all it's ease and simplicity it's absolutely delicious and very comforting. It's the kind of meal that makes you want to curl up with your favorite blanket and watch tv read a book.
Ingredients
2 TBSP olive oil
2 TBSP curry powder
1 large onion, chopped
2 tsp fresh minced garlic
2 lbs skinless boneless chicken breasts, cut into bite-size pieces
1 TBSP tomato paste
1 14oz can diced tomatoes, with most of the liquid drained off
1 x 14oz can full-fat coconut milk
3 TBSP granulated sugar
2 tsp lime juice
1/2 tsp EACH fine sea salt and fresh ground black pepper, or more to taste
Hot cooked rice to serve
Instructions
Heat a wok, or a large high-wall skillet over medium-high heat.
Once hot, add the oil and the curry powder.
Cook and stir constantly for 1 minute, then add the onion and garlic.
Cook stirring constantly for another 1 minute.
Add the chicken pieces and stir well to coat them.
Cook stirring very often, until the chicken is no longer pink.
Add the tomato paste and stir until it's well mixed in.
Then stir in the tomatoes, coconut milk, and sugar.
Bring to a gentle boil, then back the heat down until it's at a light but steady simmer.
Cook uncovered for 45 to 60 minutes, giving it a good stir every 10 minutes.
When the sauce has thickened and the chicken is tender, remove from the heat.
Stir in the lime juice, salt, and pepper. Taste, and correct the seasoning if needed before serving.
Makes 4 Servings – Serve with hot cooked rice
Notes
This recipe is dependant on the curry powder that is used. If you use hot or mild, sweet or savory it does not matter as long as you like it and it's good quality.
Sometimes I like to add a 1/4 cup of golden raisins or white raisins with the tomatoes.
You could use fresh tomatoes, but this is meant to be an easy, low-hassle, store cupboard type dish.
Leftovers will keep in the fridge for a few days and the flavors will deepen. So, you could make this the day before and reheat it gently on the stove, it would be absolutely delicious!
I sprinkled over a few pinches of dry cilantro for the pictures. It added nothing to the dish, or the pictures!