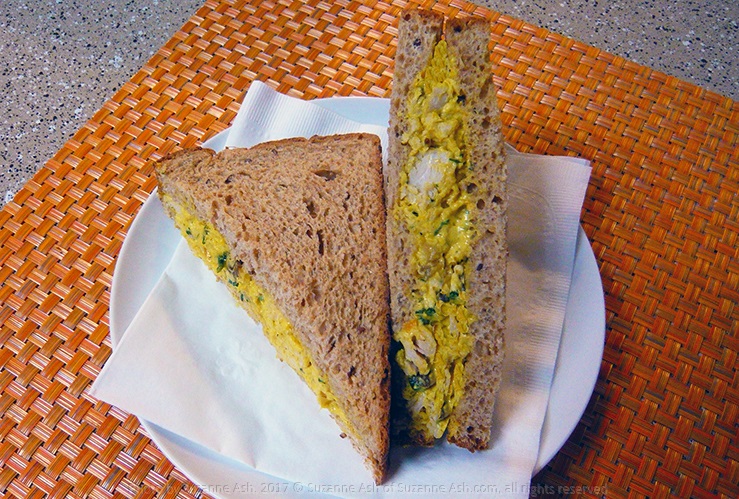 This is (another) sandwich fillings that you just don't see in the US, but is very common in the UK. I happened to try it because the sandwich cart in my building (I.T. College in West London)  was out of chicken salad. It doesn't look particularly appetizing and admittedly the taste is unusual. It's an odd combination of ingredients that makes a very addicting, almost curried sweet and sour flavor that I can not compare to anything else. It can also be used in a salad, and although I have had it that way I much prefer it as a sandwich, either on regular sandwich bread, in a pita pocket, or taco style on a Greek pita bread.
I tried lots of recipes and techniques to find that taste I was looking for using US ingredients, and I believe I've nailed it, and my British husband agrees. So, please don't let the odd appearance put you off. It's a wonderful break from the usual and it keeps for a week in the fridge so you can make up a batch on Sunday and have it for the whole week.
If you want to learn more about the history of Coronation Chicken, click —>HERE<—
Ingredients
1/4 cup mayonnaise
1/4 cup plain Greek yogurt
1/4 tsp lemon juice
2 TBSP apricot jam or mango chutney
1 1/2 tsp curry powder
1/4 tsp fine sea salt
1/4 tsp fresh ground black pepper
1/4 cup chopped fresh cilantro (coriander)
1/4 cup white raisins (sultanas)
1 lb cooked chicken breast meat, cubed or shredded
Instructions
Whisk together the mayo, yogurt, lemon juice, jam, curry powder, salt, and pepper.
Fold in the cilantro, raisins, and chicken.
Chill wrapped up tightly in the fridge for 1 hour before using.
Spread on plain or buttered bread, or scoop onto a crisp bed of salad leaves.
Makes enough for 5 generous sandwiches or 4 large salads
Notes
If I don't have leftover chicken, I just oil and season a few chicken breast halves and bake them wrapped in foil for about 40 minutes. Then I let them cool in the foil for half an hour before cutting them into cubes or shredding them. I fold in the chicken while it's still a bit warm but not hot.
This recipe needs good curry powder. It can be mild or hot, depending on what you like. As long as you enjoy the flavor of your curry powder this recipe should taste good to you.
I don't suggest substitutions or leaving things out. You can, it just won't taste like this recipe is supposed to.