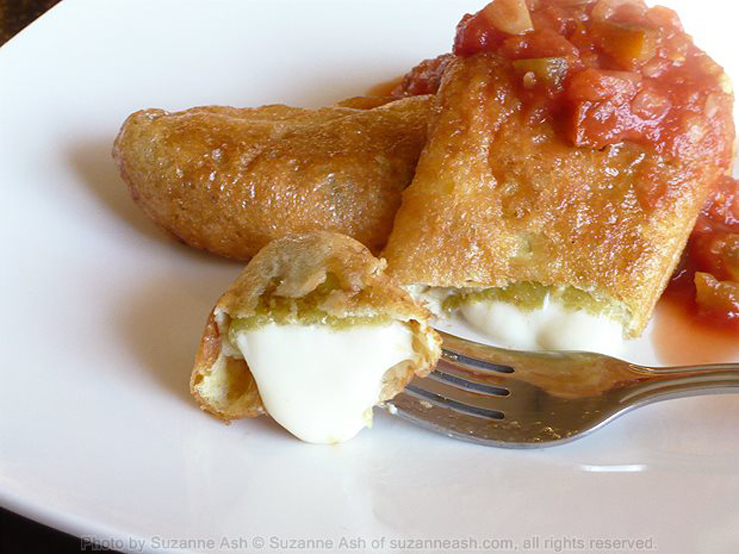 My first post of the new year!
This is a family favorite… in fact its pretty much a favorite of everyone who I've ever know to tried them.  I remember as a kid, I would stand with the refrigerator door open and eat any leftovers with my hands and hoping not to get caught by my parents or my siblings. Yup, they made me sneaky and greedy! I mean the chilis not my family!
My mother always made these in double or triple batches and it was never enough! Soft but crunchy outside with gooey melted cheese inside and a tangy green chili in-between. What's not to love? They were (and still are) worth getting in trouble for!
Ingredients
27oz can of whole green chillies / yields 14 to 16 chillies (I use Las Palmas brand)
8 ozs Monterey Jack cheese, cut into 1/2 x 2-inch strips
6 eggs separated
1/4 tsp salt
1/4 tsp baking powder
1c + 1 TBSP all-purpose flour, divided
vegetable oil
Salsa to serve (optional)
Instructions
Stuff each chili with cheese, take care not to break or split them
In a  small mixing bowl, whisk egg yolks with salt, baking powder and 1 tablespoon of flour until smooth
In a large mixing bowl, beat egg whites in until stiff peaks form
Fold egg yolk mixture gently into the egg whites until combined
Heat a medium skillet over high heat with 1-inch depth of vegetable oil
While the oil is heating, roll each stuffed chili in the 1 cup of flour until lightly coated, shake off any excess
Once the oil is very hot, turn the heat down to medium high
Dip one chili in the batter until well coated, and then gently add it to the hot oil
Prepare each chili as you go, adding them to the hot oil a few at a time and don't overcrowd them
Fry each chili for about 2 minutes, turning frequently until golden brown
Remove chilies from the skillet and place on paper towels to drain
Optionally, you can keep the cooked chilies warm in a 175f oven as you fry up batches
Makes 14 to 16 – Serve with hot or cold salsa, or not… it's up to you!
Notes
Always turn chilies over AWAY from you so oil does not splatter in your direction!
Be very careful when adding the chilies to the pan. I use my fingers but if you are not an experienced cook or the idea scares you, use tongs
These are good hot, warm and even cold
Will store for up to 5 days in an airtight container in the fridge… though I've never seen any get that old.