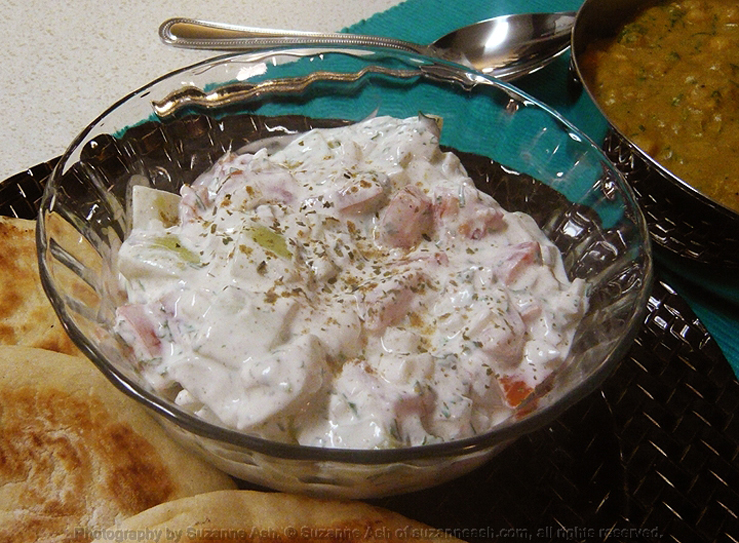 I often spoon on yogurt or a yogurty sauce (like raita) when I eat spicy curry dishes, but for a long time what I really wanted was something that would refresh my taste-buds after eating so much warm spice AND be an actual side dish. It's important to me to keep our curry dinners simple, as most of my curry recipes are simple recipes that don't require me to be in the kitchen all day. This salad is exactly what I was after! All the yogurty goodness I like, with chunks of fruits & veggies that make this a great healthy side dish. Plus, the dressing makes sure that I still get the cooling yogurty sauce… Though it really is nice enough to eat as a light lunch salad with just a plain naan or pita bread.
Ingredients
1 lb of cucumbers – peeled, deseeded and cut into bite-size chunks
Table Salt
1 cup Greek yogurt
1 TBSP lemon juice
1/2 tsp ground cumin
1/4 tsp ground black pepper
1 tsp granulated white sugar
2 TBSP of fresh coriander, minced
2 TBSP fresh mint leaves, minced
Pinch of dry dill weed
1 lb of tomatoes – deseeded and cut into bite-size chunks
1 lb of sweet eating apples – peeled and cut into small chunks
1 small red onion – finely diced
Salt to taste
A pinch of dry parsley flakes and a pinch of ground cumin (optional)
Instructions
Place a colander in the sink or a bowl and put the prepared cucumber chunks in the colander, spread out as much as possible. Sprinkle over generously with salt, toss well, spread out and leave for half an hour undisturbed.
Rinse & dry the salted cucumber thoroughly – it's best to taste a bit to make sure you have rinsed off as much of the salt as possible.
Whisk together the yogurt, juice, cumin, pepper, sugar, coriander, mint and dill in a deep bowl, large enough to hold all the salad ingredients and have room to stir them.
Add the cucumber, tomatoes and onion to the dressing. Fold gently until well coated.
Taste and adjust the salt, if needed.
Wrap up tightly and refrigerate for at least 1 hour, but up to 24 hours.
Stir gently and spoon into a large serving bowl or individual serving bowls.
Sprinkle with a little dry parsley flakes and ground cumin before serving.
Makes 4 to 6 Servings
Notes
I have skipped the salting the cucumber and deseeding the tomatoes part of the prep for this salad, and the liquid form either or both wrecks the dressing. I don't suggest skipping either.
To change it up, sometimes I add finely grated carrot, use green onions instead of red, use fat free yogurt and add a drizzle of olive oil, use lime juice or apple cider vinegar instead of lemon juice.
If you want to bulk this out a little or create a nicer presentation when plating, rather then put it directly on the plate or into an individual serving dish, spoon it over a bed of chunky chopped iceberg lettuce just before serving, but don't toss the lettuce into the salad or it will get slimy.