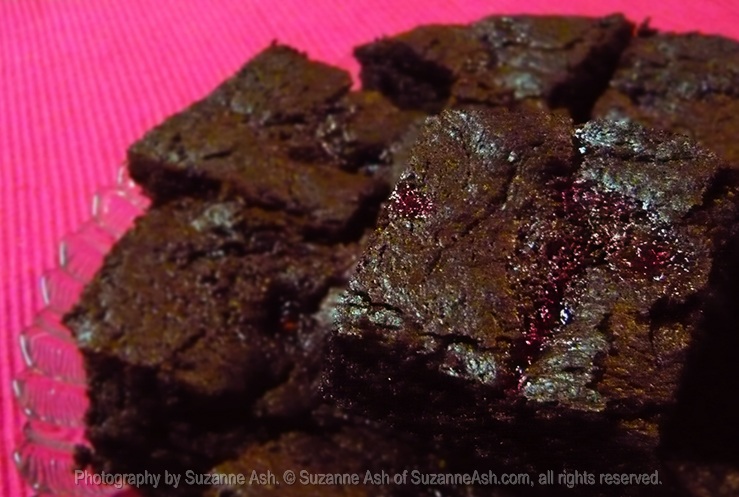 These dark chocolate brownies are not overly sweet, but they are very chocolatey and fudgy, with nice crisp edges.  At their heart, partially melded with the brownie is a little pocket of raspberry jam to offset the strong chocolate flavor. These go really well with vanilla ice cream, and served with fresh raspberries would make a wonderful Valentine's dessert!
Ingredients
12 ounces dark chocolate (70 percent cocoa), chopped
1/2 cup (1 stick) butter, cut into 8 slices
3 large eggs, at room temperature
1 cup granulated white sugar
1 tsp pure vanilla extract
3/4 cup white all-purpose flour
1/2 tsp baking powder
1/4 tsp fine sea salt
1/2 cup minus 1 TBSP raspberry preserves (I use Bonne Maman), whisked with 1 TBSP boiling hot water
Instructions
Preheat the oven to 350f, and line an 8″ square pan with kitchen foil. Grease or spray the sides and bottom of the pan.
In a large heat-proof measuring jug or bowl, add half the butter, then the chocolate, then the rest of the butter.
Heat at 70 percent power for 60 seconds, whisk and then 30-second bursts, stirring in-between. Continue until you have a smooth mixture. Cool until just warm, but still whiskable.
In a large mixing bowl, whisk together the eggs, sugar, and vanilla until frothy. Gently stir in the melted chocolate.
Whisk together the flour, baking powder, and salt and then fold into the ingredients until just combined, and no pockets of dry ingredients remain.
Pour the batter into the prepared pan, then dollop the batter evenly with teaspoons of the prepared raspberry jam. Use a skewer or similar item to gently swirl the jam into the batter without letting it touch the bottom. Don't over swirl, just a few per dollop is fine.
Bake for about 30 to 35 minutes in the middle of the preheated oven. The center may look just a tiny bit wobbly, and that is ok. Take them out of the oven and leave to cool in the pan on a cooling rack until they are at room temperature.
For best results, remove the brownies by lifting with the foil. Place them foil and all onto a cutting surface, and use a large sharp knife.
Store at room temperature loosely covered for up to 4 days. In the fridge for a week, or freeze for up to a month.
Makes 16 Brownies
Notes
This recipe is only as good as the ingredients that go into it. If you use cheap chocolate and preserves, you'll get a cheap tasting brownie.
I sometimes add 1/2 cup of sweet desiccated coconut shreds to the batter and a 1/2 teaspoon of coconut extract along with the vanilla.
You could also swirl these with Nutella, or even nut butter.
You can make these with semi-sweet (65 percent cocoa), leave out the jam, and bake for 30 minutes for a very fudgy brownie.