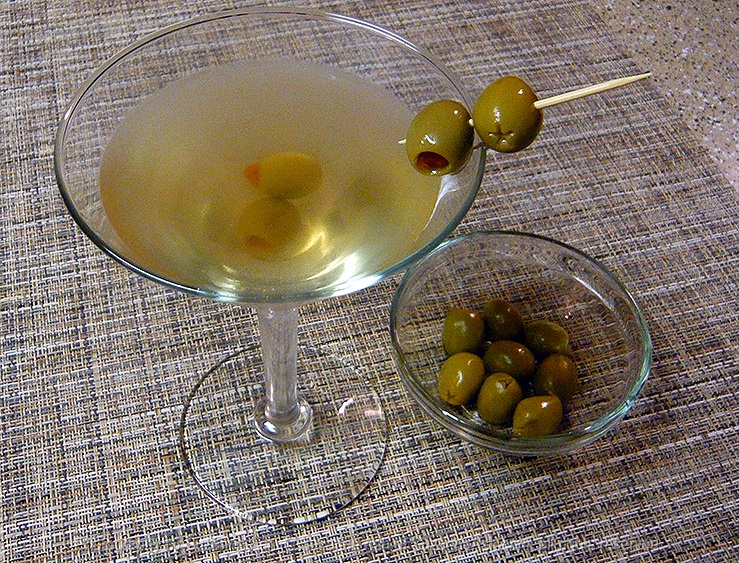 Last year, I found out that my son's friends used to steal my snacking olives. The little bass turds! I kept a small jar of green olives in the fridge and replaced half the brine with gin and vermouth. Yup, martini snacking olives! That was way back in the late 80s/early 90s. I also used to mix my 'Vespers' exactly as the recipe below, and I've also been doing that since the late 80s/early 90s! Vespers? Yes, 'The Vesper' is the famous James Bond Dry Martini. Only I like a lot of olives and brine in mine!
Ingredients & Equipment
1 ounce EACH dry gin, dry vermouth, olive brine
Crushed ice
Cocktail shaker
Cocktail sticks/toothpicks
Green olives
Instructions
Combine the gin, vermouth, and brine in a shaker half filled with crushed ice.
Shake vigorously for a few seconds, then strain liquid into a martini glass.
Skewer several olives (I like 2 in the drink and 2 on the stick) onto a cocktail stick, place on/in the glass.
Serve immediately!
Makes 1 Serving
Notes
I have never made a batch of these, I always make them one or two at a time.
I like to serve extra olives in a small bowl with the martini. In fact, I like an olive with every sip.
If you don't have martini glasses or a cocktail shaker, buy them! I got mine at the dollar store.