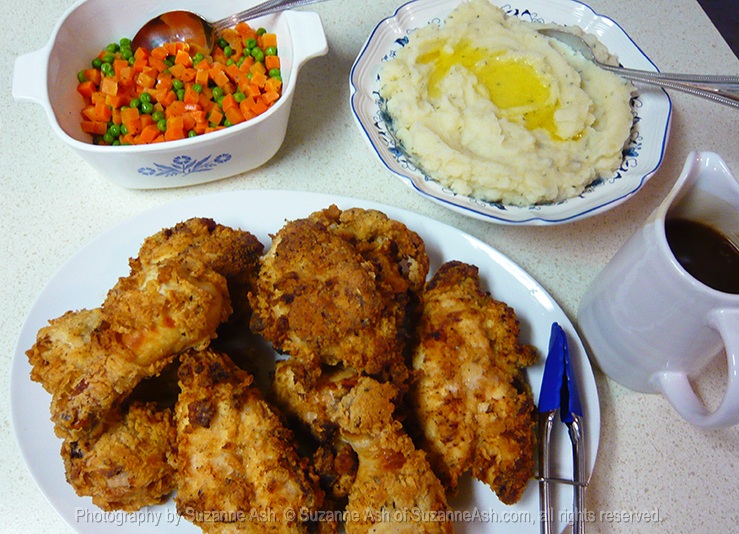 I don't eat fried chicken very often, but when I do I want it to be juicy and crispy without being overly browned or greasy. So, I started making this version around 15-years ago. Prior to using this version, I found it difficult to get the chicken cooked through without burning it on the outside and baking it to finish it off works out really well. In fact, sometimes I even ditch the frying part and just roll the pieces in breadcrumbs and bake them… but that's another recipe for another day.
Ingredients
6 lbs of chicken pieces (see notes)
24 fl oz low-fat buttermilk (see notes)
2 cups all-purpose flour
1 tsp garlic powder
1 tsp onion powder
1 tsp chili powder
2 tsp sweet paprika
2 tsp Italian Seasonings
2 tsp kosher salt
1 tsp fresh ground black pepper
Special Equipment
Deep fryer (OR heavy pot) and Frying Oil
Instant read thermometer
Rimmed baking sheet
Heat/ovenproof cooling rack
Instructions
Place the chicken pieces into a large zip top bag. Add the buttermilk and seal. Gently squish the chicken pieces around so that they are all well coated in the buttermilk. Open the bag a little and carefully press out any air and reseal. Place in a large bowl and refrigerate for at least 2 hours, but overnight is better. You don't NEED to but if you remember, turn the bag every now and then.
About an hour before you are ready to serve, place a layer of paper towel down on the baking sheet, then place the cooling rack on top of that. Heat your deep fryer to 350f and your oven to 375f.
While the fryer and oven are heating put the flour, garlic powder, onion powder, chili powder, paprika, Italian seasonings, salt and pepper into a deep wide bowl and whisk to combine. Set out a large platter covered well in plastic wrap.
Drain the chicken pieces in a colander and then one at a time put them into the flour mixture and coat well. Gently tap off any excess flour and place the pieces onto the covered platter. Discard any leftover flour mixture.
Fry the chicken pieces in batches until golden brown, about 3 to 4 minutes per side. Place the chicken pieces on the prepared rack. Repeat until all the chicken is fried, making sure to bring the oil back up to 350f in-between batches.
When all the chicken has been fried, place the baking sheet into the oven for 30 to 40 minutes to finish cooking. All pieces should register 165f and/or when pierced the juices should run clear.
Makes Approximately 8 Servings
Notes
2 whole chickens, cut into 6 to 8 pieces without using the backs or wings. 2 best of the fryer packs, or just any combination of chicken pieces. They should have the skin and bones intact for best results. However, I've done this with boneless/skinless chicken breasts and thighs and it's worked pretty good, except the coating didn't stay on as well.
I use low-fat buttermilk, but full fat will work too. I don't recommend using the "milk & vinegar" version that is often suggested as a baking substitute.
This method doesn't allow for easy "chicken fried gravy", so you'd have to just make milk fried gravy or a brown chicken gravy (that's what I do).