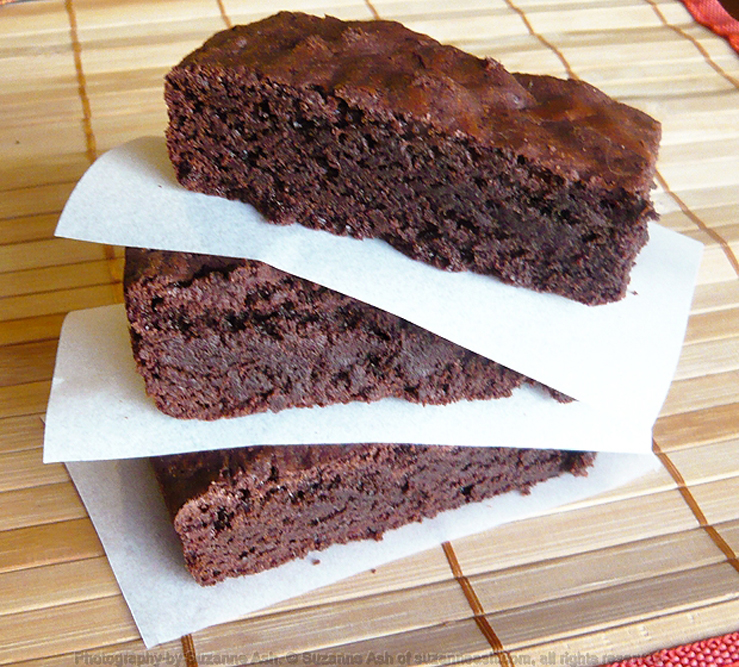 I like my brownies fudgy. Don't get me wrong, I'd eat a cake brownie, especially a frosted cake brownie, I wouldn't even complain… but I'd be thinking about fudgy brownies the whole time.
These brownies are quick to make, you don't need any sort of electric mixer and you can have them mixed, baked and cooling in less then 45 minutes. However, it's important to wait until they are cooled completely before cutting them (see notes). I have trouble with this and I often cut off some before I should. I'm naughty like that.
Ingredients
1 cup butter (2 sticks), melted
1 tsp instant coffee granules (optional)
1 1/2 cups white sugar
1 1/2 cups dark brown sugar
2 tsp vanilla extract
4 eggs
1 1/2 cups all-purpose flour
1 cup cocoa powder (not drink mix)
1 teaspoon salt
Instructions
Preheat the oven oven to 350f and grease a 9″x13″ baking dish with butter, then line it with with parchment.
Combine the melted butter, coffee granules, sugars, and vanilla in a large mixing bowl and whisk until blended.
Add in the eggs one at a time, whisking well after each, until thoroughly blended.
Sift the flour, cocoa powder, and salt into the bowl. Using a rubber spatula, stir the dry ingredients into the wet mixture until just blended and no dry pockets remain. Do not over mix!
Pour the batter into the prepared baking dish and spread evenly.
Bake in the preheated oven for 30 to 35 minutes. The center should not be wiggly.
Remove the pan from the oven and cool the brownies in the pan until they are at room temperature.
Once the brownies have cooled, remove them from the pan and peel off the parchment. Place them on a cutting board and cut into 15 portions.
Makes 15 good size brownies (you can always half them and make 30 smaller portions) – Store at room temperature in an airtight container for up to 3 days
Notes
Why can't I cut them when they are still warm? Well of course you can, but they seem to dry out more even though they still taste good. If I had to guess, I'd say it's because the steam escapes from the cut part? And if you try to seal them up to finish cooling they get steamy and mushy. SO… if you cut them before they are cooled then you have to eat them all. Yes, I'm pretty sure that is a law.