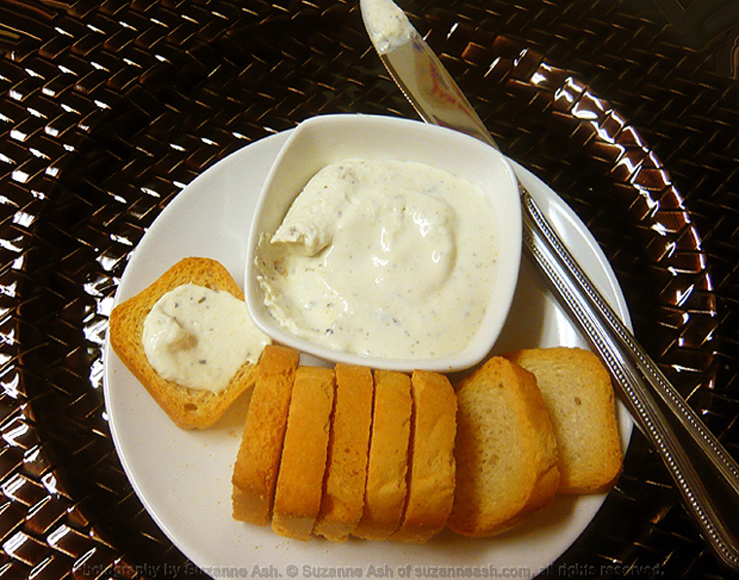 This stuff makes great holiday horderves. Served with crackers or as the dip in a crudites platter. Personally, I like it on little cocktail melba toasts or warm french bread.
I've always loved Rondele cheese. when I lived in the UK I used to buy these little packs of assorted cheeses just for the tiny bit of Rondele they had in them. I thought it was some fancy specialty cheese and I relished those little sampler size packs.
I never saw the giant tubs of it in the US (giant in comparison to the sample size I got in the UK) until I moved back a few years ago. I found them to be a little pricy and a lot fattening, so I didn't buy them often. Then I come to find out it's just cream cheese and garlic. No seriously, that's basically all it is!
So not only can it be homemade for a quarter of the price, it can be homemade in a healthier version. I don't think anyone could tell the difference between homemade and store bought, the consistency and flavor is dead on. In fact, put it in an old Rondele container and don't tell anyone you made it!
Ingredients
8 oz of neufchatel cheese, softened
2 TBSP 2% lowfat milk (not skim)
2 tsp finely grated fresh raw garlic
1/2 tsp granulated onion
1/4 tsp dried oregano
1/4 tsp dried basil
1/4 tsp rubbed sage
1/4 tsp dried rosemary
1/4 tsp red pepper flakes
1/4 tsp fine sea salt
1/8 tsp ground black pepper
1/8 tsp white pepper
Instructions
Put all the ingredients into a large mixing bowl and beat for 2 to 3 minutes, scraping down the sides as necessary.
Place in an airtight container in the fridge and chill for at least 8 hours, but overnight is better.
Serve with crackers or cocktail melba toasts or use a thinner version as a dip (see notes)
Makes 12 Ounces – Keeps for up to 2 weeks refrigerated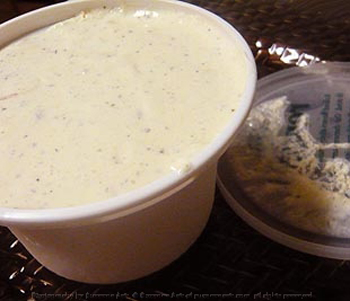 Notes
The spread in the pictures in this post are made with extra milk so it's still spreadable but also can be used for dipping, to achieve this consistency I used an extra 2 tablespoons of milk.
You could substitute the fresh garlic for 1/2 a teaspoon of granulated garlic or 1 tablespoon of roasted mashed garlic