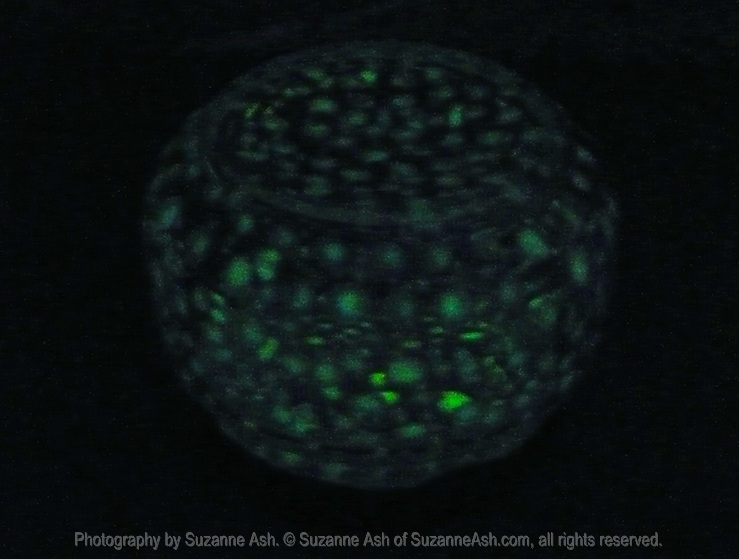 It was surprisingly hard to photograph the glowing. The picture doesn't do it justice, it really does look beautiful in the dark.
I've been seeing this sort of thing all over the internet for some time now. Then, I saw a bottle of glow-in-the-dark t-shirt puffy paint on sale at the store and I grabbed it with trying this in mind.
The puffy paint I bought was a 4 fluid bottle, and even though we (my granddaughter and I) made several glow jars, there is tons of the stuff leftover for other projects.
To make the jar pictured, I first wiped the inside of the jar and lid with rubbing alcohol (optional but I think the paint sticks better). I squirted a tablespoon of the puffy paint onto an old plastic lid, then cut off the pointy end of a wooden skewer and dipped it into the paint. Starting at the bottom of the jar and working my way up the sides, I dotted the jar with large blobs of the paint. Since my jar had unusual curved sides/top bit I bent the blunt end of the skewer partially, so it would reach up into the curves. I finished up by adding paint to the lid, leaving a small gap at the edges.
I made sure to use large blobs of paint because they would dry smaller than they go on. Then, I let my jar dry for the recommended time on the paint bottle (4 hours). After the puffy paint was dry, I painted the lid with two coats of black gloss craft paint. When that was dry, I used a strong glue to glue the lid to the jar. Then I wrote my initials on the lid using a metallic sharpie.
My granddaughter followed this exact process and got the same results.
The jars we used are Christopher Ranch Chopped Ginger or Garlic jars. I chose these particular jars because when inverted they look sort of like a snow globe. However, a larger jar would obviously give you a larger glow.
NOTE: Not everything we used is in the photo below.
Materials/Tools We Used…
Clean glass jar with a tight fitting screw on lid
Rubbing Alcohol
Paper towel
Glow in the Dark Fabric Dimensional Paint
Long wooden kitchen/food skewer
Heavy-duty scissors or wire cutters (to cut the skewer)
Craft paint
Craft paint brush
Strong glue
Metallic sharpie markers