So I turned 45-years old yesterday, it wasn't a turning point birthday like the ones that happen after 21 and end in 0 but still it was the one that put me firmly between 40 and 50. Not that I'm feeling any older then I did when I turned 44, in fact I feel better physically and mentally then I did a year ago. Each birthday seems to bring its ups and downs and I never really know what to expect.
I celebrated in the evening with my husband, my son, my son's fiancé and my two granddaughters. I wanted fish and chips so I Googled local restaurants and based on what I found we headed over to the Pub & Poker, a supposedly child friendly restaurant but the dark red vinyl, dim lighting and lack of children's menu suggested other wise.
In my opinion the waiter was the nicest thing about the restaurant, he was friendly and despite being the only server he was making good time with the food and checking in with all the customers. We spent exactly $100 with a 18% tip, this fed 4 adults and 2 children and we each had at least one drink. My husband and I had the fish and chips and the fish was good, very moist and the crispy batter had a little heat to it (not Brit style) but the chips were of the frozen variety and not very well cooked. I left most of mine in the basket. My husband said he really enjoyed the fish and over all everyone agreed none of it was horrible but none of it was worth going back for either.
One of my fondest memories of my grandparents is a few days spend in Reno at the Circus Circus there and coming home with a crap load of stuffed cuddly toys so I decided that for my birthday I'd like to take the kids to the Vegas Circus Circus and spend the evening playing games and watching the acts perform.
We have been living in Vegas for 3 weeks and hadn't seen the strip yet, our destination was way down the strip from the direction we came from so we got to have a slow sight seeing tour, it was as giant and flashy as all the films and photos would have you believe. We finally arrived and the kids were bouncing around excited about finally being let into one of the giant shiny flashy buildings.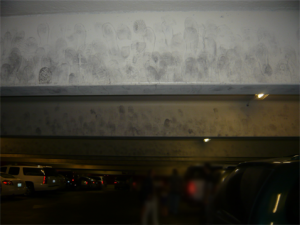 Parking is free and it was only a few minutes walk to all the games and acts. We noticed that people had taken off their shoes and slapped them on the beams in the parking garage, odd but interesting. We added our own shoe prints on the way out.
We got $20 worth of quarters to start. The kids were so excited with all the fun looking stuff and could hardly contain themselves. We worked our way around counter clockwise, pumping coins into anything the kids wanted, we were on our second $20 worth of quarters with in 10 minutes but the second batch lasted a bit longer. We eventually ended up with a bag of stuffed cuddly toys and the kids were having a wonderful time… the perfect opportunity to slip off to the grown up games below!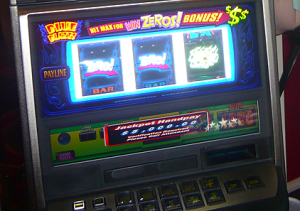 I told myself that I would spend $20 and when it was gone I'd go back up and that would be the end of it. I wandered a bit and found some quarter machines, I played on a single quarter machine for about 20 minutes and although I was up $40 in that short time I was a little tired and felt a little guilty for leaving the kids (all 4 of them) upstairs so we headed back up and along the way I saw an interesting looking machine and said f*** it I'm going to put $20 in for a one time go (it was a $5 machine) and let the casino have my money with out feeling bad… better to have gambled and lost then not to have gambled at all? Ah but gambling and winning is just sooooo much better! I selected the 3xbet ($15 for one spin) and woohoo a $5k jackpot!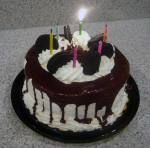 After I got my money we headed back home for cake. I requested a cookies and cream cake from Vons because I like that type of cake and it looked good in the store but it was dry and had no filling in the middle. I don't think I'd ever get another cake from there again, however I enjoyed the evening immensely and even if I had stopped at the $40 winnings I still would have looked back at the evening and remembered it as a good birthday.