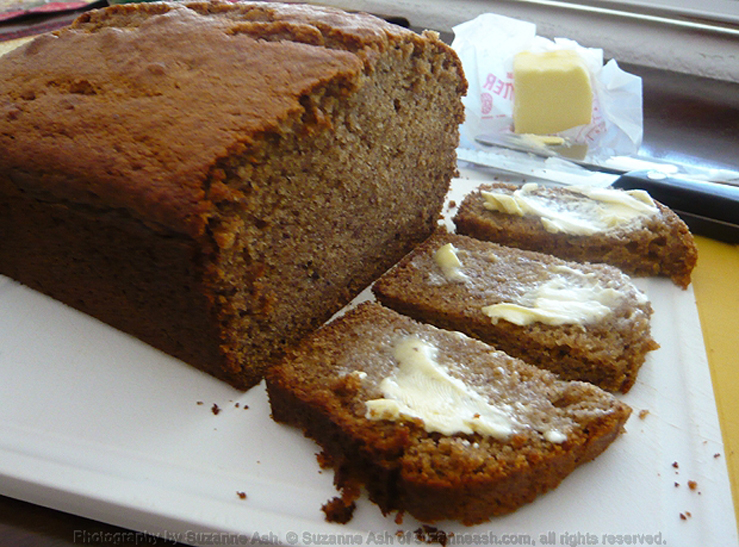 This is a slightly adapted version of the King Arthur Flour "Heavenly Healthy Banana Bread" recipe. It's not gimmicky, it doesn't have rare special or hard to find ingredients and it can be made without any KAF products. I believe the reason they've called it healthy is because it uses 100% whole wheat flour. Though I do prefer KAF whole wheat flour to any other I've tried, it's about the only product of theirs that I use regularly.
This particular banana bread is not to sweet, it's nice and moist and it takes less then 10 minutes to throw together. However, with resting/baking/cooling time it's about 2 hours total till you can eat it (warm not hot). I like it with a little butter on top but it's good plain too.
Ingredients
1/2c/113g/8 TBSP butter, at room temperature
1/2c/106g brown sugar (firmly packed if using cup measure)
1 tsp vanilla extract
1 tsp tsp baking soda
1/2 tsp salt
1 tsp cinnamon (optional)
1lb/454g bananas, nice and ripe (weight when purchased, unpeeled)
1/4c/85g honey
2 eggs
2c/227 whole wheat flour
Instructions
Preheat your oven to 350°F. Lightly grease an 8 1/2″ x 4 1/2″ or 9″ x 5″ loaf pan.
In a large bowl, beat together the butter and sugar until smooth. Add the vanilla, baking soda, salt, cinnamon (if using) and bananas, beating until well combined. The mixture might look curdled to you but that's ok.
Beat in the honey and eggs.
Add the flour and stir with a rubber spatula. Stir just enough to mix the flour in well..
Spoon the batter into the prepared pan, smooth the top. Let it rest at room temperature for 10 minutes.
Bake the bread for 50 minutes, then gently lay a piece of aluminum foil across the top, to prevent over-browning. Bake for an additional 10 minutes, then remove the bread from the oven; a long toothpick or cake tester inserted into the center should come out clean.
Allow the loaf to cool for 10 minutes; then remove it from the pan, and set it on a rack to cool for half an hour before slicing, bread will still be warm.
Makes 1 Loaf
Notes
You can find the original recipe on the KAF Website
The original gives an option for 1/2c (57g) chopped walnuts, I just prefer it without.