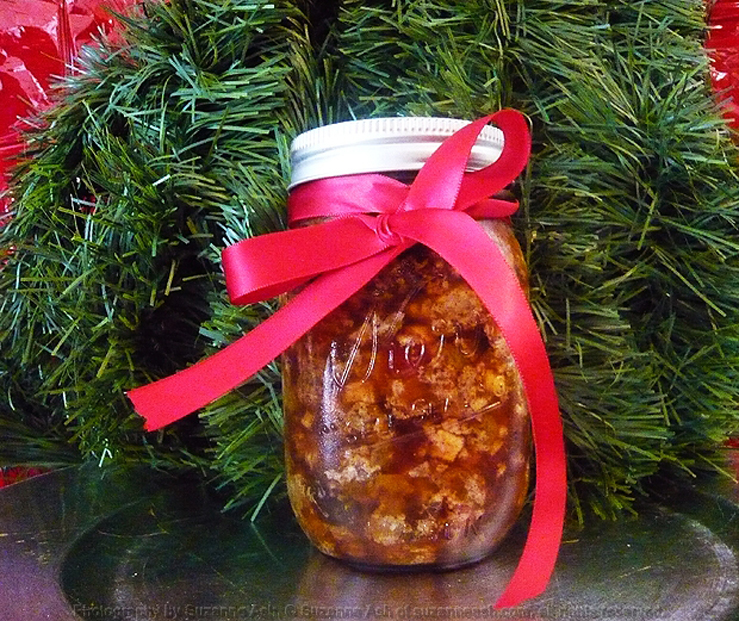 I think mincemeat has a fascinating history, and it is definitely something I think of as an end of year holiday type thing. I personally don't crave it this time of year but, my husband does. We've tried pretty much every store bought mincemeat we could find, which were all horrible. So I either had to have some shipped over from the UK or I had to try making it myself…
Biggest problem with making a traditional British mincemeat is the suet. If you don't know what that is, trust me you don't want to know! It's notoriously difficult to find and at the price you pay for it (at least in California) you might as well order the mincemeat from overseas.
My solution? Use shortening. I read up on the debate of butter VS shortening and sided with the shortening opinion people, based on their melting point argument. Also, it does not need refrigeration. Though, I did choose to refrigerate the mincemeat while it was "ripening".
Ingredients
4oz/110g tart cooking apple, diced "raisin size" (I used one large granny smith)
the zest and juice of 1 orange (I used an orange the size of a baseball)
6oz/170g raisins
4oz/110g sultanas (white raisins)
2oz/55g dried ready to eat apricots, diced "raisin size"
2oz/55g glace cherries, quartered
3/4 tsp ground allspice
3/4 tsp ground cinnamon
3/4 tsp ground nutmeg
1/4 tsp ground mace
1/4 tsp ground clove
1/4 tsp ground coriander
1/4 tsp ground ginger
oz/55g walnuts, chopped
oz/225g demerara sugar (see notes)
3.5oz/110g Crisco shortening
2floz/50ml brandy
IMPORTANT! You will need a 1 pint (or two 1/2 pint) glass jars with tight fitting lids
Instructions
In a large mixing bowl, combine the diced apple and orange zest+juice and toss gently to coat. Then add all the prepared dried fruits, nuts, sugar and spices. Toss gently so that everything is well distributed.
Either pinch off tiny pieces of the shortening with your fingers or use two small spoons to add "raisin" size pieces of it to the mixture. Stir very gently after each few pieces of shortening are added.
Once all the shortening is added, stir in enough of the brandy so that the whole mixture is moistened but not watery.
Cover and leave for 24 hours, then spoon into prepared jar and refrigerate for at least 3 weeks before using.
Use just as you would any premade/store bought.
Makes approximately 32 ounces (1 pint) and will keep in the fridge for up to 3 months
Notes
If you can not find demerara sugar you can substitute turbinado, if you can't find either then use just regular granulated white sugar.
The original recipe called for 4oz/110g of dried currants. My local grocery store didn't have them so I simply left them out. If you can find them and you can afford them, go ahead and add them back into the recipe and cut the raisins down to 4oz/110g.
Yes, it is terribly hard to make a jar of mincemeat look festive, or even edible in pictures… I did the best I could!