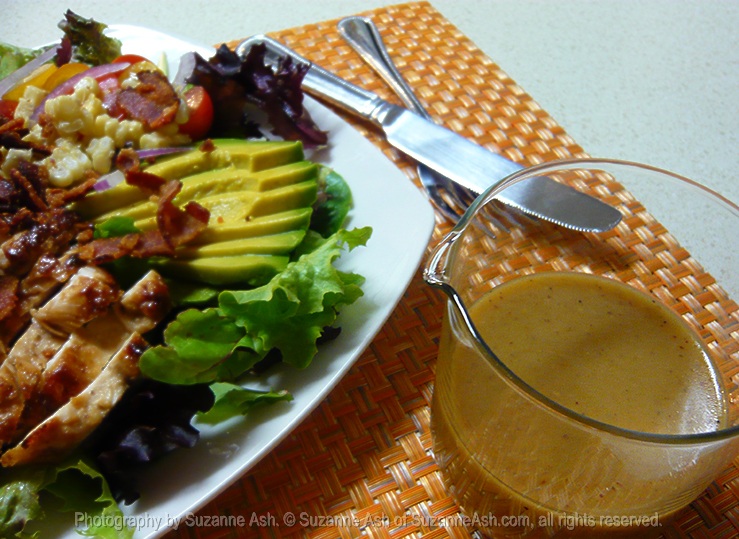 Honey mustard dressing is my husbands favorite so we always have a bottle of it in the fridge, and while I don't dislike it I don't tend to reach for it at home. Though, that's mostly down to it being bottled stuff. I find it too sweet and often chemical tasting. My homemade version is a nice change from the usual (blue cheese or buttermilk ranch) that I tend to choose. It's not too sweet, in fact, it's bordering on being a vinaigrette.
Ingredients
5 TBSP avocado oil, or olive oil
6 TBSP raw honey (see notes)
4 TBSP dijon mustard
1 TBSP whole grain mustard
1 TBSP mayonnaise
2 TBSP apple cider vinegar
1 tsp finely minced raw garlic (optional)
Fine sea salt & fresh ground black pepper to taste
Instructions
Whisk together all the ingredients, taste, and season to your liking.
Wrap up tightly and refrigerate for a few hours to develop the flavors.
Keeps for up to 2 weeks in an airtight container in the fridge.
Makes Approximately 6 Servings (18 fluid ounces total)
Notes
Raw honey really is the best, but if you can't get it or won't eat it, at least get honey and not honey flavored honey… yup that's a real thing!
If you measure out the oil first the other ingredients, especially the honey, will slide out of the measuring spoon easier.
We enjoyed the dressing in the pictures on a grilled chicken, bacon and avocado dinner salad. Even my 8-year-old granddaughter loved it!