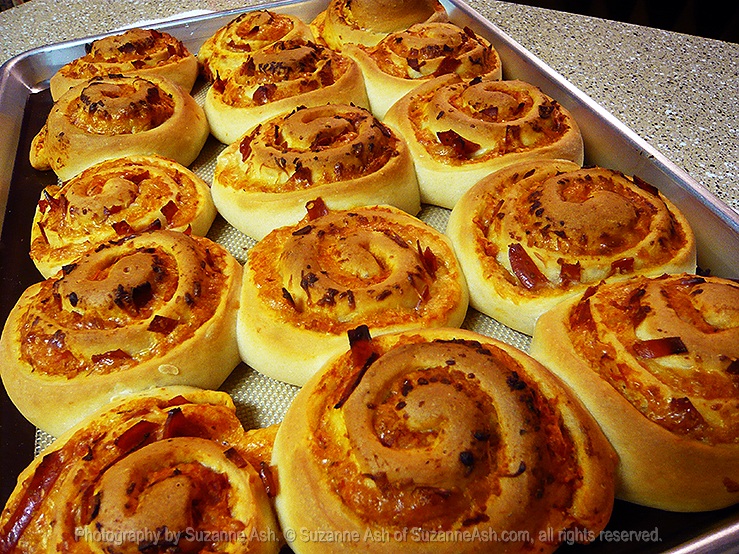 So, I did the first KAF (King Arthur Flour) #bakealong and the recipe for January 2017 is Pizza Party Buns…
The instructions were good and clear, and I followed them without deviation. I did "cheat" and let my breadmaker do the laborious part, but I had to grab the dough bucket out of the breadmaker before it punched the dough down and let it rise for a further 45 minutes to double it. I used turkey pepperoni because I like it better, it doesn't give me heartburn and it's much less greasy. I use part skim mozzarella, and just a handful of some sharp cheddar/Monterey jack I had mixed up for some enchiladas I made last week. I used a store-bought deli sauce instead of making my own. I had a lot going on that day and it was nice to not have to be making a sauce too. Plus, the sauce is made at the store I got it from (not from a jar) and it tastes really good.
I ended up cutting them into 16 buns using the floss method outlined in the instructions. One fell apart, I mean it just disintegrated when I lifted it up. One end piece was a bit funky too, and the other (in the slightly obscured top right of the pic) rose like none of the rest did and got a lot more browned. I baked them on a silicone mat, and I didn't give them a lot of space to spread out because I wanted them touch. The second rise took 90 minutes. I like to rise stuff in my water heater closet, and I make a fair amount of yeast doughs. This dough was not unusual in its ingredients so I don't know why it took such a long time. Regardless, they came out pretty perfect.
I found that the ingredients were not expensive, but the finished product tasted pretty much like a pizza. Except, the bread part didn't taste like crust. I don't think I would ever make them again, simply for the reason, pizza dough is easier to make. Don't get me wrong, they were nice to eat. It's just that pizza is just as party friendly, takes basically all the same ingredients in the same amounts, and it takes considerably less hands-on time. I also found that it makes a lot more of a mess than making pizza.
Hopefully, next months #bakealong recipe will be something more interesting.
If you want to participate or would like to try the recipe yourself, HERE is the link to the KAF #bakealong page.