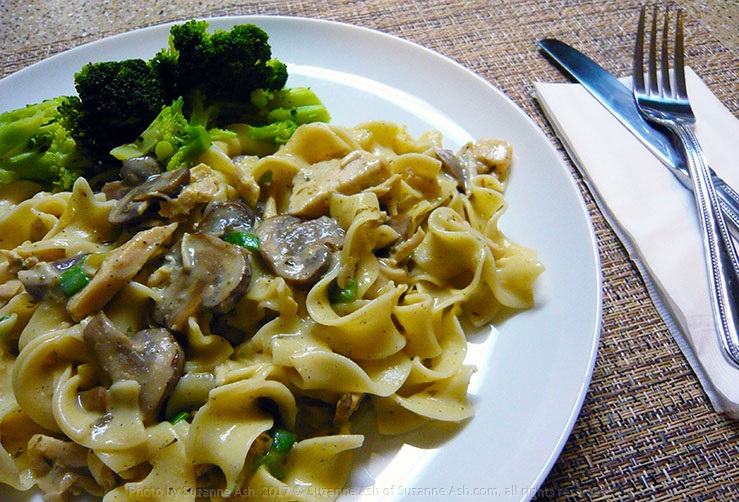 I generally just refer to this as Turkey Stroganoff, because I haven't hosted a Thanksgiving in years and I haven't cooked a turkey for Christmas since I left the UK. So, leftover turkey is not something I generally have to worry about. The thing is, I love turkey and I eat a lot of it. I like it so much I cook turkey especially for recipes like this one and last years turkey pie recipe. Although, for anyone trying to find something to do with their leftover holiday turkey, this recipe is easier to find with the title as it is.
Ingredients
2 tablespoons butter
8 ounces mushrooms, sliced
1 tsp minced fresh garlic
4 green onions sliced thin, white and green parts separated
1/4 cup dry white vermouth
1/2 tsp sweet paprika
1 tsp dry Thyme
1 tsp rubbed sage
1 tsp parsley flakes
2 TBSP all-purpose flour
2 cups chicken broth
1/2 tsp fine sea salt (or to taste)
1/2 tsp fresh ground black pepper (or to taste)
1/2 cup sour cream
6 ounces wide egg noodles
Instructions
Start the pasta water, and cook pasta according to the package directions. Drain the noodles, but do not rinse them. While the noodles are cooking, make the sauce.
In a large skillet over medium high heat, melt the butter and add the mushrooms. Cook the mushrooms for 5 minutes, stirring often. Stir in the minced garlic and green onion whites, cook and stir for 1 minute longer. stir in the vermouth and cook until the mixture is nearly dry.
Sprinkle over the paprika, thyme, sage, parsley, and flour. Mix well, so that all the mushrooms are well coated. Then, stirring constantly, pour in the first cup of chicken broth a quarter cup at a time. Mix in each quarter cup well before adding the next. Then, add in the last cup of broth all at once. Stir well and bring to a good simmer. Simmer for 5 minutes, stirring often.
Stir in the turkey, and simmer until the turkey is heated through. Remove the pan from the heat and stir in the sour cream and the green onion green parts. Then, add the cooked drained noodles and toss gently to mix.
Makes 4 Servings
Notes
I like to use 'No Yolks Extra Wide Egg Noodles', but any wide egg noodles will do.
You could definitely sub in cooked chicken, or cook up some ground turkey or chicken especially for this dish.
I wasn't entirely happy with the main photo, I think it came out a little dark So, I added another one below. I'm not entirely happy with it either. I should have used better broccoli in the front, but I was hungry and impatient.