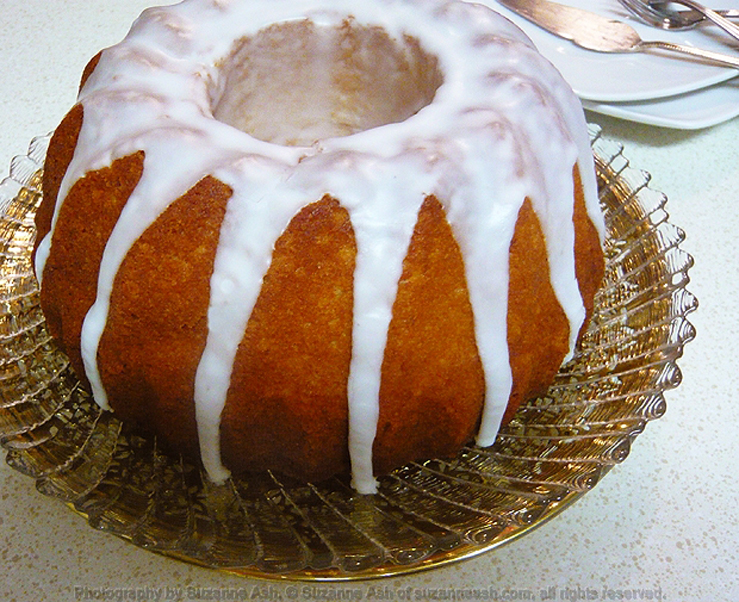 Incase you hadn't noticed by now, I'm a fan of  bundt cakes. I like that it doesn't need to be frosted, that it stays fresh and moist for several days, and that it's generally a very easy thing to make for weekday desserts. This particular recipe is for a nice lemony cake with a lovely tart icing.
Ingredients
Cake
¾c/180ml canola oil
2 eggs
1 TBSP lemon zest
¼c/60ml lemon juice
2 x 6oz/170g low fat or fat free lemon yogurts
1¾c/385g granulated white sugar
2c/300g unbleached all-purpose flour
1 TBSP of baking (bicarb) powder
1 tsp teaspoon of kosher salt
Icing
1c/160g powdered (icing) sugar
1 TBSP lemon juice
2 tsp very hot water
Instructions
Preheat oven to 325f/160c and coat a 10-cup bundt pan with baking spray or grease and flour.
Place the eggs and sugar in the bowl of a stand mixer fitted with the paddle attachment and beat on medium high speed until pale and light (3 to 5 minutes).
Add the oil, lemon rind, lemon juice, and yogurt. Beat just till combined.
Sift the flour, baking powder and salt right into the mixing bowl and mix on low until smooth.
Pour into the prepared bundt pan and bake for 55 to 60 minutes, or until a skewer inserted comes out clean.
Cool the cake in the pan for 5 minutes, then turn out onto a cooling rack and leave to cool for 30 minutes.
Meanwhile, whisk all the icing ingredients together until smooth and then put it into a ziplock bag. Remove the air and set aside until needed.
When the cake has cooled for 30 minutes, place it on a serving plate. Snip the corner of the bag of icing and drizzle evenly over the cake.
Allow the cake to sit until completely cooled before slicing.
Makes 1 Bundt Cake / 12 Servings – Will keep for up to 5 Days covered at room temperature
Notes
I find that I generally need 3 to 4 small lemons to get enough zest and juice.
You could make this in two 4×9″ inch bread pans, just reduce the cooking time to about 45 minutes.
If you want a more yellow color you'll need to add a little yellow food coloring to the batter when you add the yogurt, otherwise the cake isn't very yellow when sliced.
You can substitute plain yogurt for the lemon flavored stuff.
I've made this cake plenty of times just as it is written in this recipe, but in the one in the pictures I made with 1 cup of Truvia baking blend and half a cup of real sugar. I can't tell the difference, neither could my husband… except the bottom browned a little faster so when I make this again I will cover up the cake with kitchen foil the last 15 minutes it's in the oven.