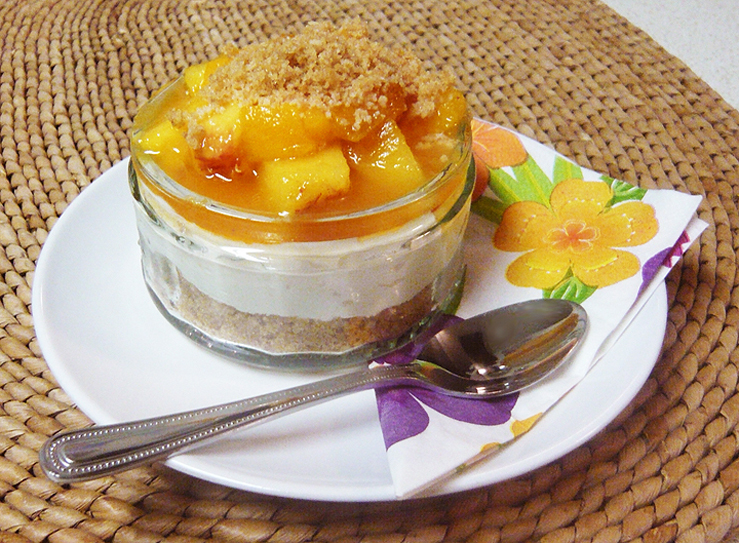 The lovely fresh California peaches I've enjoyed all summer are about to disappear! Yup, it's the end of peach season and when they are gone I'll have to console myself with canned and frozen until next year… but they aren't gone yet!
If you have fresh peaches available to you then run out and grab yourself a few and make these no baking or cooking required, delicious little golden fruit topped cheesecakes. It may be the end of peach season in California but it's not even close to being the end of the summer time heat. Not having to heat up the stove or the oven is definitely a bonus, but to be perfectly honest, for these I would bear a little heat… luckily I don't have to!
Ingredients
2 TBSP apricot jam
1 tsp lemon juice
3 medium peaches – skinned, pits removed and diced chunky
6 graham cracker cookie sheets
1 TBSP granulated sugar
1/8 tsp ground cinnamon
3 TBSP butter, melted
8 oz Neufchâtel or cream cheese, softened
1 tsp vanilla extract
1/2 cup powdered sugar
1 cup (1/2 of an 8 oz tub) of whip topping (like cool whip), regular or lite
Instructions
You'll need 6 single serving dishes or bowls that hold 4 to 6 ounces of liquid. No need to do anything special with them, just have them handy.
In a microwave safe bowl or measuring jug, heat the jam for 30 seconds. Whisk in the lemon juice and then add the diced peaches. Fold the peaches and jam together gently and then set aside until needed.
Break up the graham cracker cookie sheets into a food processor or mini chopper, add the granulated sugar and the cinnamon. Process until you have very fine crumbs. Add the melted butter and process until the mixture is well combined and feels like fine wet sand. You may need to stop the processor and scrape down the sides a few times to get a very fine crumb.
Put 1 heaped tablespoon of the crumb mixture in each of the 6 serving container, spread them out gently and smooth them over with the back of a spoon, using just enough pressure to make an even layer but with out compressing them. You want the crumbs to be crumbly on the bottom and easy to get out with a spoon. You'll have some of the crumb mixture left over, set it aside for topping.
Put the cheese, vanilla and powdered sugar in a deep mixing bowl and beat until well mixed and smooth, about 3 minutes. Add the whip topping and beat for 1 minute longer.
Using two spoons, gently drop a few tablespoons at a time into each serving container until you have divided the mixture up evenly among all 6. Smooth over gently with the back of a spoon.
Give the peach and jam mixture a thorough but gentle stir, then gently spoon it over the cheese mixture. Just put a little at a time on each and try to divide it up evenly, including the juice in the bottom of the bowl.
Sprinkle about a teaspoon of the remaining graham cracker crumbs over each of the mini-cheesecakes.
You could eat these immediately, but I think they are better if you refrigerate them for an hour or two before serving. They will keep in the fridge, covered, for up to 2 days. However, the crumbs on top will get soggy… which I kind of like.
Makes 6 Servings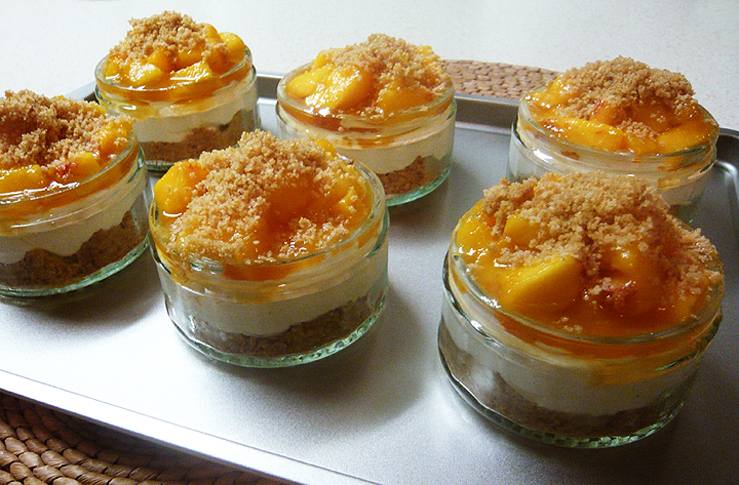 Notes
I've never tried to make one big cake out of this recipe, but I'm sure it would work. You would have to compress the crumbs to make more of a traditional cheesecake base out of them.
You can definitely use the base and filling with other fruits.
If you don't want to dice the peaches, you can slice them and then arrange them on top of each of the desserts in a pleasing pattern, except it makes them hard to eat and you've got better things to do then spend an hour arranging peach slices on a dessert that took you 10 minutes to make… don't you?
Neufchâtel cheese (pronounced new-shaw-tell ch-eaze) is not diet cream cheese, it's just cheese. Though it does have less fat and more moisture content, which can  sometimes make it a better ingredient for a recipe. Which is the case with this recipe. Of course it's your food, you can use the other, drier, fattier cream cheese if you like.