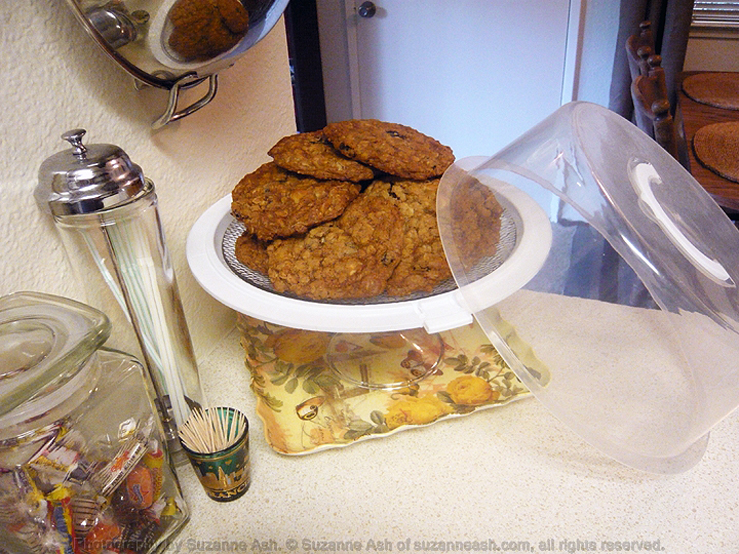 So these cookies really were inspired by the bulk bins at Winco. I do pretty much all my food shopping there and I love that I can experiment with cooking without having to make an investment in an ingredient I may never use again. Plus, so many people shop there that the bulk stuff is always very fresh. I used a crapton (totally real word!) of bulk bin stuff to make these cookies and I've included the bin numbers at the bottom of this post incase you are lucky enough to have a Winco near you.
Ingredients
1 cup unsalted butter, softened
1 cup light brown sugar, packed
1/4 cup granulated sugar
2 large eggs
1 teaspoon vanilla extract
1 1/2 cups unbleached all-purpose flour
1 teaspoon baking soda
1 teaspoon ground cinnamon
1/4 tsp ground nutmeg
1/2 teaspoon sea salt
3 cups old fashion oats
1 cup dried fruit, chopped "raisin size" (if bigger than raisin size)
1 cup vanilla baking chips
1/2 cup walnut halves & pieces, roughly chopped
Instructions
Preheat the oven to 350f and line two baking sheets with parchment paper or a silicone baking mat (that's what I use).
In a stand mixer, cream together the butter and the sugars until well combined and fluffy (about 3 minutes).
Add the eggs and vanilla and beat until well combined.
Sift the flour, baking soda, cinnamon, nutmeg and salt right into the mixing bowl.
Beat in the dry ingredients until well combined.
Add the oats, dried fruit, baking chips and nuts and beat on the lowest speed just until they are distributed evenly in the batter.
Using two spoons or a 1 1/2 tablespoon cookie scoop, drop by rounded 1 1/2 tablespoons onto the prepared baking sheets and flatten each cookie slightly.
Bake in the preheated oven for 12 to 15 minutes (more for crispier cookies, less for chewier).
Let cool on the baking sheet for 3 minutes before removing to a wire wrack to cool completely
Store in an airtight container for up to a week.
Makes Approximately 36 Cookies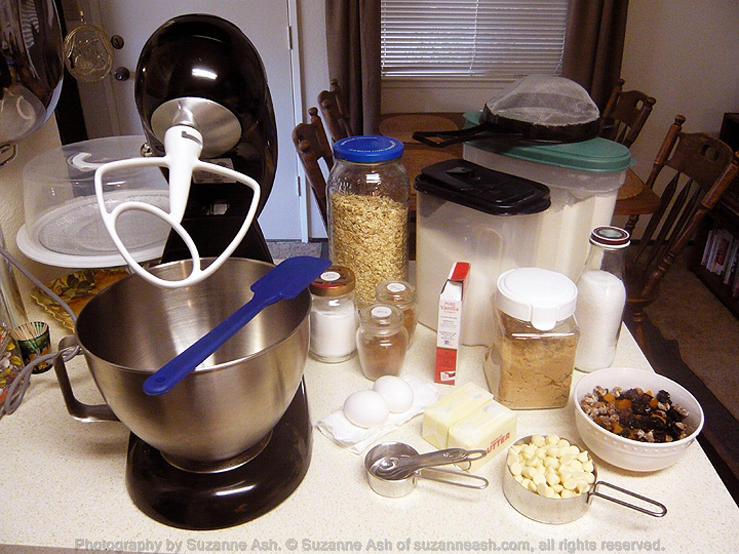 You can see the empty cake holder behind the mixer, it's sad and it's wrong!
Notes
These cookies are pretty sweet, and although the white granulated sugar adds to the crunchy outside, you could just leave it out. You could also replace half the butter with unsweetened applesauce.
Here is the list of Winco bulk bin numbers…
bulk 1721 – light brown sugar
bulk 1716 – granulated sugar
bulk 1737 -unbleached all-purpose flour
bulk 1781 -baking soda
bulk 1684 – ground cinnamon
bulk 1705 – ground nutmeg
bulk 1711 – sea salt
bulk 1933 – old fashion oats
I used 1/3 cup of bulk 1847 -raisin medley
Then a little bit of each of these: bulk 2169 – chopped dates, bulk 2163 -dried cherries, bulk 2150 – dried apricots, bulk 2152 – dried plums to make up the other 2/3 cup
bulk 1825 -Vanilla Baking Chips, or you could use any of the baking chips they have
1/2 cup bulk 2035 -walnut halves & pieces, or any of the nuts they have, or just leave them out.