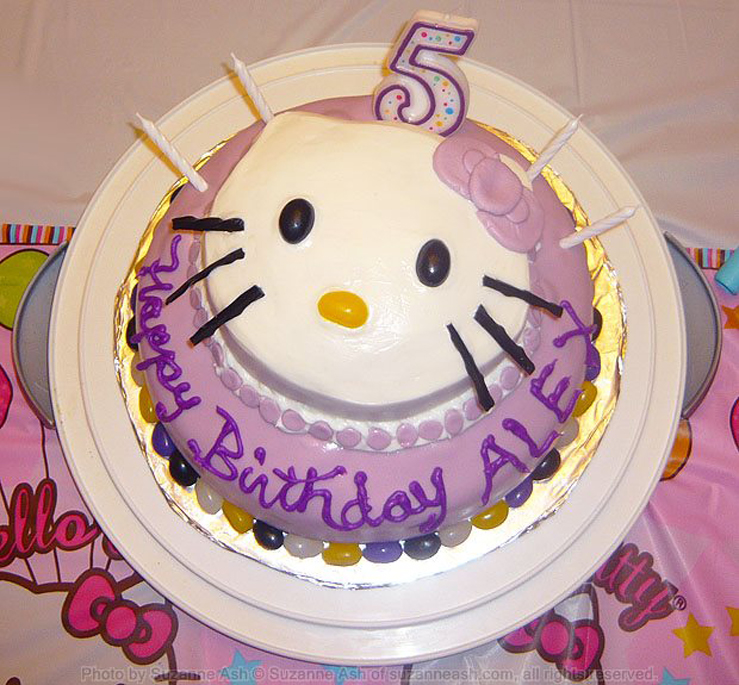 This is a ridiculously easy recipe but it does require a bit of elbow grease. It can be flavored or colored any way you like. The cake in the picture has regular spreadable frosting on the top layer (kitty's head) and the rolled marshmallow fondant on the bottom (purple) part. I'd like to show you a better picture but this is the only one I have using this particular recipe.
Ingredients
16oz/450g mini marshmallows (it's best to use pure white ones so you can color them more easily)
4floz/120ml water
1 tsp of vanilla extract or other flavoring of your choice
2lbs/900g powdered (confectioners) sugar, sifted
Instructions
Place the marshmallows and the water in a large microwave proof bowl
Microwave them on high until they blow up really puffy, take them out and stir until you have a smooth mixture and all the marshmallows are melted (it will be very very sticky!.
Add 6 cups of the sifted powdered sugar and the vanilla to the marshmallow mixture and stir with a sturdy spoon or spatula.
Once you find you can no longer stir the fondant, it's time to get you hands in there.
Dust your hands in the extra powdered sugar and bring the fondant together like a dough.
Once it forms a ball, turn it out onto a work surface dusted with powdered sugar and knead for 6 to 10 minutes.
The fondant should be smooth, not sticky and not tear easily when you stretch it
Cover the fondant and let chill in the fridge for 8 hours or overnight.
Take the fondant out at least an half an hour before you want to use it, knead it gently to make it pliable
If adding color, kneed into the fondant before rolling.
Keep any fondant you aren't working with rolled tightly in plastic wrap or it will dry out.
Use just as you would a store bought fondant.
Makes about 2.5lbs/1133g, which is enough for a large 2 layer cake with a bit leftover