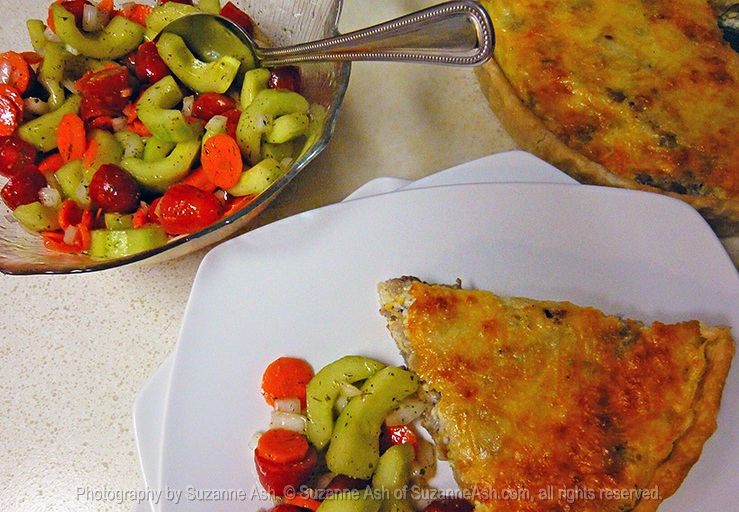 I've heard it called cucumber salad, pickled salad and even onion salad. I call it no leaf salad because one night I had prepped some veggies to go on a mixed leaf salad, only to find that my mixed leaves had spoiled. So we ate the prepped veggies in a mustard and dill vinaigrette. I like this with things like quiche (pictured), but it goes pretty well with any rich dish that doesn't suit a traditional salad or side dish.
Ingredients
2 TBSP olive or avocado oil
3 TBSP apple cider vinegar
1/2 tsp Dijon mustard
1/4 tsp EACH: dry dill, dry parsley, fine sea salt, fresh ground black pepper
1 English cucumber, peeled, deseeded, & cut into 1/2 inch pieces
24 cherry or grape tomatoes, sliced in half
1 carrot, peeled and sliced very thin
1/4 cup chopped onion
Instructions
In a bowl large enough to hold all the ingredients, whisk together the oil, vinegar, mustard, herbs, salt, and pepper until you have a smooth dressing.
Add the prepared vegetables, and fold them gently into the dressing to coat them.
Cover tightly and refrigerate for at an hour (or a few hours) before serving.
Best eaten the day it's made, but will keep in the fridge for a day or two.
Makes 2 large or 4 small servings
Notes
You can of course leave the seeds in the cucumber.
You can substitute the vinegar for another type, but it will change the flavor.
You can use full size tomatoes and slice them up bite size.
You can serve this over salad leaves, and confuse people by not changing the name.