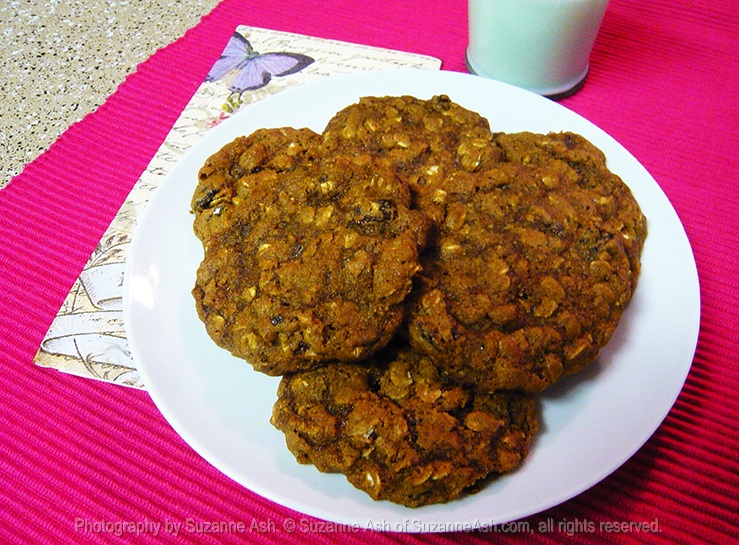 This recipe makes cookies that taste like the cookies I hated when I was a kid… Seriously, I hated them! I never liked raisins or molasses until I was an adult. Now I like the taste of both and this is my go-to recipe. It creates dark chewy spicy cookies, that are hard to stop eating. Plus, they are super fast and simple to make too. In fact, if you have all the ingredients you could be eating a warm cookie in less than half an hour!
Ingredients
2 cups/180g rolled oats/porridge oats (not instant)
3 cups/220g plain white all-purpose flour
1 tsp baking soda
1 tsp ground cinnamon
1/4 tsp ground allspice
1/4 tsp fine sea salt
1 cup/140g raisins
1 & 1/4 cup/280g white granulated sugar
1/2 cup/113g butter, softened
1 tsp vanilla extract
1/3 cup/80ml molasses (or treacle)
2 eggs, at room temperature
Instructions
Preheat the oven to 375f/190c and line two baking sheets with parchment or silicone mats.
In a large mixing bowl, whisk together the oats, flour, baking soda, cinnamon, allspice, and salt. Add the raisins and mix them in with your hands so they are not in clumps.
In a separate bowl, beat the sugar, butter, vanilla, and molasses until light and fluffy.
Beat in the eggs until well combined.
Add the wet mixture to the dry mixture and stir together by hand until well mixed.
Using two spoons, or a scooper, drop 2 about tablespoons of dough about 2"/5cm apart onto the lined baking sheets, and bake in the preheated oven for 10 to 12 minutes.
Cool 5 minutes on the baking sheet, and then remove to a wire rack to cool.
Serve warm or cold. Keep leftovers in an airtight container at room temperature for up to 5 days.
Makes Approximately 36 Three Inch Cookies