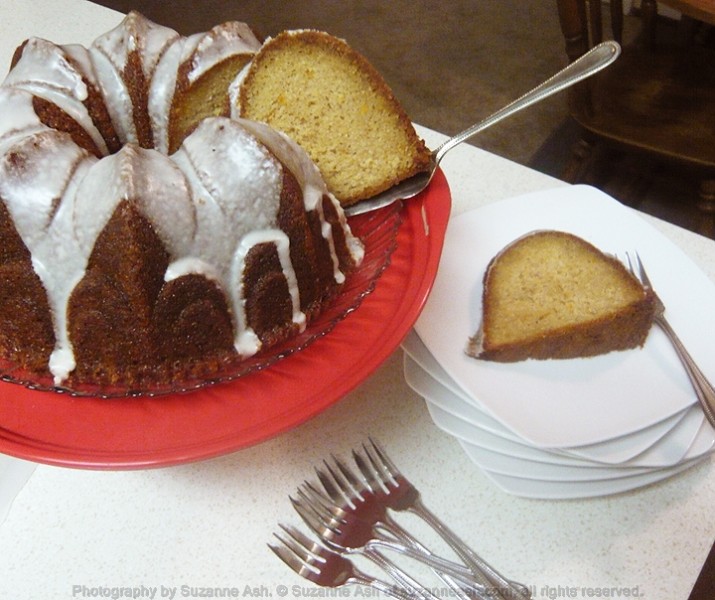 I like cake… and my mother gave me a Nordic Ware Anniversary Bundt Pan and Carrier Set for my birthday this year. Does anyone need a better reason for making cake than that? It's nice and heavy, but slightly smaller than the standard size and it seems that most recipes are for the larger size.
Luckily (?) I ran into this problem when I got my Kugelhopf pan. When I'd bake a cake in it I'd have a little bit of batter left over, so generally I'd either make a few cupcakes or just let the cake have a huge bottom <insert joke here>. Not that I have anything against cupcakes or cakes with big bottoms, I just prefer less hassle and correctly proportioned cake recipes. To that end, I started adapting my favorite recipes or creating new recipes that worked for the pans size, which just happens to work perfectly with my new pan.
By the way, if you know any Brits, get them to say "A little bit of batter" for you.  What do you mean why? Just do it! Oh, and while you're at it, get them to say "Dirty, dirty, dirty".
Ingredients
Cake
3 cups unbleached all-purpose flour
1 tsp baking powder
1 tsp baking soda
2 tsp ground cardamom
1 tsp salt
6 ounces non-fat, plain yogurt
Zest of 1 orange, finely minced
1 tsp vanilla extract
1 TBSP orange extract
2 TBSP milk
8 ounces (2 sticks) unsalted butter, softened
2 cups white granulated sugar
4 large eggs, at room temperature
Syrup
1/2 cup orange juice
1/2 cup white granulated sugar
Glaze
1 cup powdered sugar
1 tsp vanilla extract
1 to 2 TBSP water
Instructions
Heat the oven to 350f, grease and flour, or spray a 10 to 12 cup bundt pan.
In a bowl, sift together the flour, baking powder, baking soda, cardamom and salt. I know some people like to whisk, but I still think sifting is better!
In another bowl, whisk together the yogurt, orange zest, orange and vanilla extracts and the milk.
In the bowl of an electric mixer, cream together the butter and sugar using the paddle attachment. This should take between 3 and 5 minutes to reach a light fluffy consistency and don't forget to scrape the bowl down often.
Beat the eggs into the fluffy butter and sugar, one at a time on medium speed, making sure they are completely mixed in before adding another. Scrape the bowl down and make sure there is nothing stuck to the bottom and unmixed.
Add the flour in 1/4s and the yogurt mixture in 1/3s, alternating, starting and ending with the flour mixture. Make sure that the flour and yogurt mixtures are well mixed in after each addition, and that you scrape the bowl down after the last addition and mix the batter a few seconds longer.
Spoon the batter into the prepared bundt pan. Then, with out touching the bottom or sides, cut through the batter with butter knife or offset spatula. This well hopefully get rid of any hole causing bubbles. Smooth over the top of the cake before you place it in the preheated oven.
Bake for 45 to 55 minutes, or until a toothpick comes out clean when you poke the middle of the cake.
Whole the cake is in the oven, put the sugar and juice for the syrup into a microwaveable jug. Whisk to combine and then heat in the microwave for 1 & 1/2 minutes. Try to catch it just as it begins to boil and take care not to let it boil over. Whisk it well and set is aside to cool.
When the cake is ready, cool it in the pan for 20 minutes, then gently loosen it from the sides and turn it out onto a cooling rack with a plate or a baking sheet underneath (I find a plate easier to maneuver).
Poke the cake all over with a thin skewer or toothpick, then paint the syrup over the cake slowly and gently. When you run out of syrup, pour what has collected in the plate or baking tray back into the jug and paint the cake again. Repeat this until you either have no syrup left or you just can't be bothered to keep doing it.
Leave the cake to cool for about an hour before you drizzle over the glaze.
To make the glaze, vigorously whisk together the powdered sugar, vanilla and 1 tablespoon of water. If the glaze is to thick add more water a little at a time until it's just right.
Drizzle the glaze over the top of the cake and leave to dry for 5 or 10 minutes before serving.
Makes 1 Bundt Cake – 16 Servings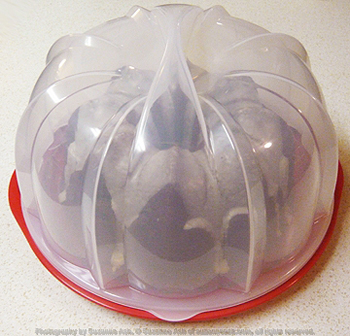 Notes
Don't skimp on any of the steps! With a cake like this, if you are impatient or you skimp on things like creaming the butter and sugar or leave out the orange zest, you'll end up with something that is much less than it could be, and possible something that is not going to be eaten.
You can leave out the cardamom if you can't find it or find it to expensive. I get mine at World Market and if there isn't one near you, you can order it online.