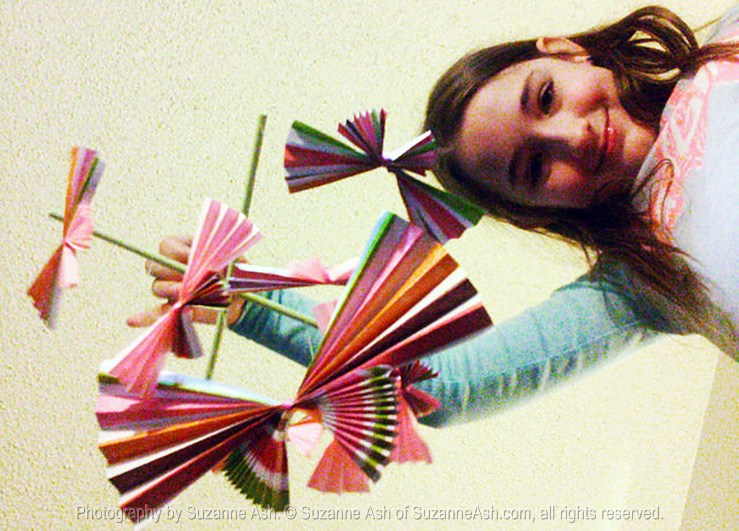 My granddaughter and I made these easy (but with a lot of steps) mobiles just for fun. No special occasion, we just felt like crafting. I had all the stuff on hand, but you would most likely need to visit a store some of it, or get creative substituting for stuff you have one hand. Her's is pictured above, mine is at the end of the post.
 We used…
• 12″x12″ printed paper
• 12″x9″ colored construction paper
• Ribbon or twine
• Fishing line
• Paint & brush
• Scissors and craft knife
• Wooden skewers (2 per mobile)
• Glue (Aleen's Tacky Glue is best)
•  Pushpin & small beads (not pictured)
• Cutters, and a file or some sandpaper
This is how we made ours…
We cut the pointed end off our skewers, then sanded the cut end so it was smooth. We poked holes all the way through the middle of both, then 4 more evenly spaced holes that were just most of the way through one side of each. We painted them and set them aside to dry.
We cut each type of paper into 4 – 4″ x 2″ and 2 – 8″ x 4″ stripes. We ran dull backside of the scissor point over the paper to create grooves every 1/4″  lengthwise on half the small pieces and widthwise on the other half. We also did this on the large pieces, except we made the grooves further apart. Then, we folded each piece accordion style (back and forth/hill and valley). Fold each in half so the tops meet, and pinch the middles.
I choose to diagonally cut the tops off my horizontally folded pieces. My granddaughter left hers as is. We matched them up with horizontal folded pieces on the top and verticle folded on the bottom. We alternated between solid and patterned too.
We tied each of the two halves together, I used twine and she used ribbon. We added a drop of glue and let it dry before cutting off the excess. We tied a loop with a 10″ piece of the fishing line and dotted the knot with glue, then tied on a bow and dotted the knot on that with glue. We let it dry completely before we cut off the excess of the bow. We left the fishing line long. We cut 8 more pieces of fishing line about 8 inches long. We dipped one end of each into glue and pushed it into each hole (except the middle one) of each skewer. We left everything to dry completely.
We when everything was dry, we strung a bead, then skewer, then bead, then skewer a few inches down from the bow on the "bow" string. We glued the heck out of it and left it to dry. We then bend the end of each of the non-glued in fishing line into a sort of hook, and pushed it under the twine or ribbon on each butterfly, so that it would hang "pretty side" down. We dotted it each on with glue and left it to dry. Once dry, we had our mobiles.