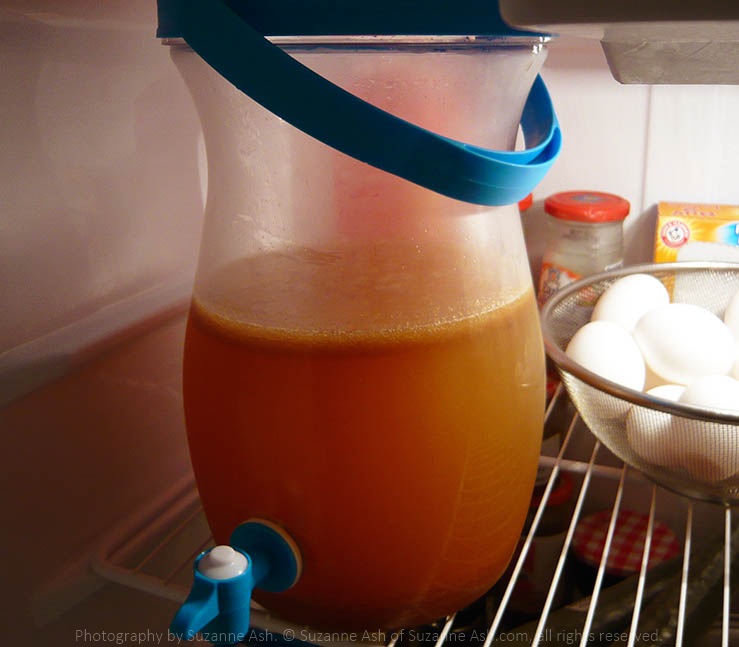 If you use vanilla in this tea it makes it taste a bit like peach pie. It's a nice change from what I usually drink (plain iced tea) and this recipe makes a nice big batch. About a gallon actually, which I can easily drink by myself in just a day or two. A gallon is just the right amount for my drink dispenser that I got at the 99c store (for $1.99). It's actually a really good dispenser, it has never leaked and it's light weight. If you don't have a dispenser or you think that it's too much tea to make at once, you can cut the recipe in half or even quarter it.
Ingredients
12 cups brewed, cold black tea (see notes)
16 oz bag of frozen peach slices
1 cup cold water
1 cup agave syrup
2 tsp ground cinnamon
1 tsp vanilla extract (optional)
Instructions
Have your prepared tea in a serving pitcher large enough to hold the tea and the rest of the ingredients.
Place the peaches, water, and cinnamon in a blender. Blend as smooth as possible.
Use a fine sieve and strain the peach mixture twice. Use the back of a large spoon to press the mixture into the sieve to squeeze out as much liquid as possible. Discard anything left in the sieve (see notes).
Stir the tea, peach mixture, agave, and vanilla together (I use my largest cooking pot) until well mixed.
Pour into a jug, pitcher or drink dispenser and chill in the fridge until cold.
Serve chilled tea over ice if you like.
Makes Approximately One Gallon
Notes
I like to cold brew tea for this, but it takes 24 hours to make. If you don't want to wait then you can just combine 6 cups of boiling hot water and 6 tea bags in a large pan. Let the tea bags steep for 4 minutes, fish them out and discard them. Then leave the tea to cool to room temperature – OR – place 6 cups of cold water and 6 tea bags in a sealed pitcher and refrigerate for 24 hours.
I actually eat the stuff left in the sieve! Just spoon it out into a glass or a bowl, it's kind of like a smoothy.
I've never tried it with anything other than black tea, or a half & half blend of black and green. I mostly use Tetley British Blend or Tetley Black & Green.