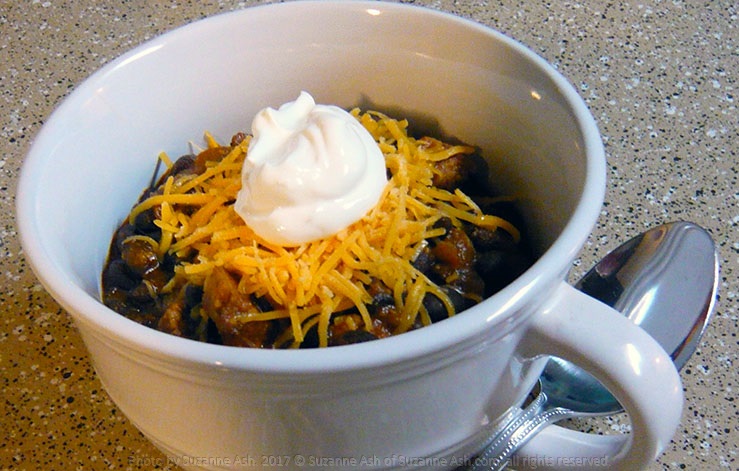 This is a very simple but delicious chili without a long cooking time. I just want something different sometimes, instead of the same old chili(s) I've been making for years. Plus, it cooks in just 30 minutes using tender low-fat pork loin, and I think the black beans and pork combo make for a good flavor combination.
Ingredients
Olive oil, for cooking
1 yellow onion, chopped
1/2 lb pork loin, cut into 1/2 inch(ish) pieces
2 tsp fresh minced garlic
1 tsp sweet paprika
2 tsp ground cumin
1 TBSP ground chili powder (I use ground California Chilis)
1 TBSP tomato paste
2 cups chicken stock
2 tsp Mexican oregano
2 cups cooked black beans
Salt & pepper to taste
Instructions
Saute the onions with the oil in a large heavy bottom pot over medium heat. When the onions are soft, add the pork, garlic, paprika, cumin, chili powder, and tomato paste.
Cook and stir until everything is well coated in spices. Then, stir in the stock and oregano.
Bring to a gentle simmer, then simmer for 20 minutes with the lid off, stirring occasionally. Adjust the heat the heat if it's simmering to vigorously.
Add the beans and simmer for 10 minutes longer. Taste, and add salt and pepper if needed.
Makes 2 Large Servings (or possibly 4 regular servings with rice)
Notes
I like this served with grated sharp cheddar and/or a dollop of sour cream. It would be good with rice or cornbread too.