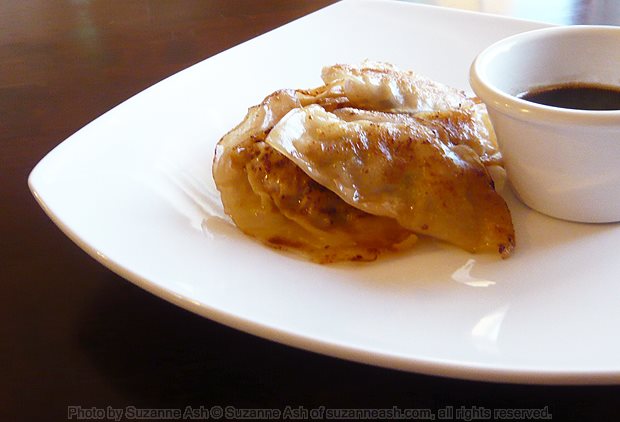 This coming Friday is Chinese New Year, Happy Chinese New Year!
Please forgive the picture on this post, I'm hoping to get a better one next time I make these. To be fair, I was lucky to get this picture since they were disappearing at record speed even before dinner was served.
Seriously, who doesn't like potstickers? Personally, I love them! But they are pretty expensive to "pig out" on if you get them from a restaurant or even pre-made from the store. Don't worry that homemade won't taste as good, every time I make them everyone gorges themselves.
If you'd like to stuff yourself with these awesome little pillows of goodness, then give my recipe a try. It's a little time consuming but otherwise simple and the results never fail to impress.
Ingredients
1 tsp olive oil
1½ tsp finely minced garlic
1½ tsp finely minced ginger
2c finely sliced Napa cabbage
¼c finely grated carrot
¼c finely sliced green onion (white & green parts)
1 egg, beaten
1 TBSP dark soy sauce
½ tsp ground black pepper
1 tsp sesame oil
½lb. ground pork
60 potsticker wrappers
4 TBSP vegetable oil, divided
1 Knorr stock cube (chicken or vegetable) dissolved into 1c boiling water
Dip
Mix together:

4 TBSP dark soy
3 TBSP rice wine vinegar
1 tsp sesame oil
Optionally, add all or some of these: finely sliced green onion, finely sliced red chilies, finely sliced ginger, finely sliced garlic
Equipment
2 baking trays
3 sheets of parchment paper (cut to fit the baking sheets)
1 clean kitchen or tea towel (cloth not paper)
small bowl of water for sealing
18″ fry pan with a lid
Instructions
Filling
Heat the oil in a large fry pan over medium heat, add the garlic, ginger and cabbage. Saute over medium heat for about 5 minutes, or until the cabbage is soft and cooked through.
Remove the pan from the heat, add the carrot and the green onions. Stir well and set aside and cool to lukewarm.
In a large mixing bowl, stir together the the egg, soy sauce, pepper and sesame oil.
Add the cooled vegetable mixture and the pork. Mix gently but thoroughly.
Assemble
Line 1 baking tray with 1 pieces of the parchment paper.
Soak the towel in water and then wring out as much of the water as you can.
Lay the towel over the lined baking tray and fold back half.
On clean work surface, layout 6 wrappers at a time, dip your finger in water and run it around the edge of each wrapper.
Put approximately 1½ tsp of the filling in the middle of each, then fold over and seal. Take care to squeeze out any air bubbles.
Lay the pot stickers on the baking tray and cover them as you go.
Repeat until you get to 15, then turn the tray around and fold the towel back to half and assemble another 15.
When you get to 30, cover the first layer with the second sheet of parchment and then the damp towel, folding it back by half again.
Assemble the last 30 potstickers in the same way and set aside covered.
Cook
Preheat the oven to 200f and set out the second baking tray , lined with the last piece of parchment.
Heat the fry pan over high. Once hot, add 1 TBSP of the oil and swirl to coat.
Quickly add 15 of the potstickers in a single layer, cook for 2 minutes and then flip them over.
Add ¼c of the broth and put on the lid. Cook for 2 minutes and then remove the lid, cook for two minutes more.
Remove the potstickers to the second lined baking tray and put in the oven to keep warm.
Repeat until all the potstickers are cooked.
Makes 60 Potstickers – Serve with small bowls of dip on the side
Notes
Once the potstickers are cooked they don't tend to stick together so you don't need to worry about making a single layer while they are keeping warm in the oven.
I don't like any "chunkies" in my potsticker dip, but a lot of people do. Finely sliced green onions are generally as far as I'm willing to go to make it look prettier.
Make a double batch of the filling and freeze half for another time – no need to defrost and you cook them exactly the same way for the same amount of time