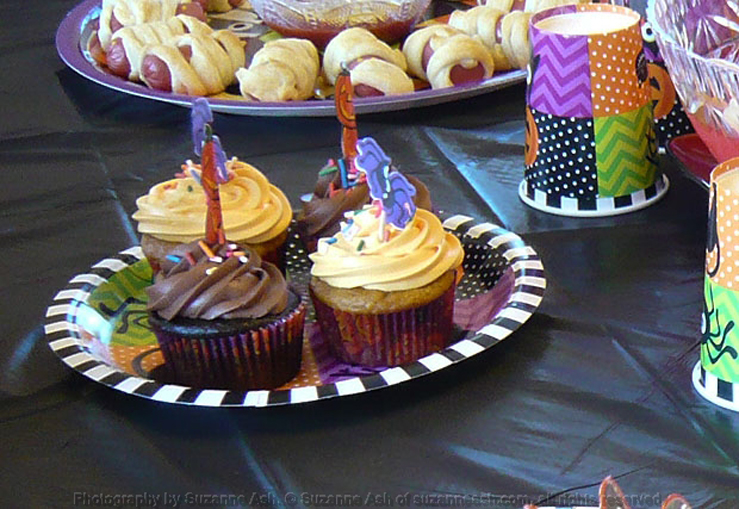 This is a picture of the cupcakes I made for Halloween this year. The chocolate ones are my go to recipe (Hershey's Perfectly Chocolate Cake) and the ones with the orange colored frosting are my favorite pumpkin cake with a super creamy frosting. Although you could just eat them unfrosted and they'd still be wonderful.
Ingredients
Cupcakes
2 1/4 cups all-purpose flour
1 teaspoon ground cinnamon
1/2 teaspoon ground nutmeg
1/2 teaspoon ground ginger
1/2 teaspoon ground allspice
1 tablespoon baking powder
1/2 teaspoon baking soda
1 teaspoon salt
1/2 cup veg oil
1 cup white sugar
1/3 cup brown sugar
3 eggs
3/4 cup milk
1 x 15oz can pure pumpkin puree (not pie filling)
Frosting
1 (8 ounce) packages cream cheese, softened
1/2 cup granulated white sugar
1 tsp vanilla extract
2 cups whipping cream
Cupcakes
Preheat an oven to 350f and line 2 x 12 cup cupcake pans (to make 24)
Sift together the flour, cinnamon, nutmeg, ginger, allspice, baking powder, baking soda and salt. Set aside until needed.
Beat oil, sugars, eggs and milk until well mixed and smooth.
Beat in the pumpkin puree until well blended.
Stir in the flour mixture with a rubber spatula, just until no dry pockets remain. Do beat or over mix!
Fill the prepared muffin cups 3/4 full (a 1/4 cup trigger action ice cream scoop works perfectly).
Bake in the preheated oven until the tops of the cupcakes spring back when lightly pressed, about 20 to 25 minutes.
Cool in the pans for 5 minutes before removing to a wire rack.
Cool completely before frosting.
Frosting
In a large tall mixing bowl, beat the cream cheese, sugar and vanilla together for 2 minutes, scraping the bowl half way.
Add the cream and beat until stiff peaks form (5 to 8 minutes).
Generously frost cupcakes, or eat several spoonfuls of frosting and use what is left over to frost the cupcakes the best you can.
Makes 24 standard size cupcakes – Store in the refrigerator, bring to room temperature before serving
Notes
Add coloring to the frosting with the extract, if you want colored frosting. I used 32 drops of yellow and 4 drops of red.
If your kitchen is to warm the frosting may seem sloppy and take longer to get firm enough to pipe, if this happens just pop it into the fridge for 10 minutes and beat until it is the desired consistency.