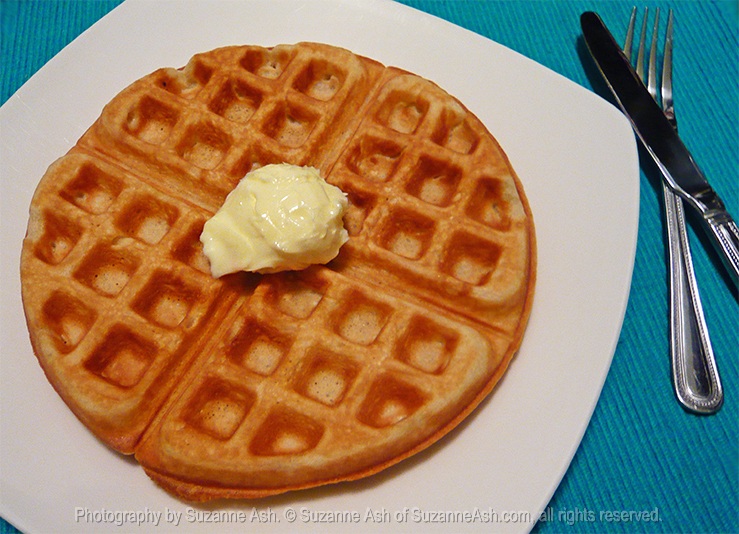 So why are these "easy" waffles? NO WHIPPING EGG WHITES! I am not a fan of elaborate recipes first thing in the morning. I don't want to be separating eggs, let alone whipping eggs whites. I just want to throw a bunch of ingredients in a bowl, stir it, and make waffles with it. Now don't be thinking that the waffles made in this fashion would be sub-par because of the lack of whipping the eggs whites, oh no no! These waffles are light, fluffy, crispy and wonderful. Just like a waffle should be.
Ingredients
1 & 1/4 cup all-purpose flour
1/2 cup cornstarch
2 TBSP granulated white sugar
2 tsp baking powder
1/2 tsp baking soda
1/2 tsp fine salt
1 & 3/4 cup milk
2 TBSP light tasting oil
2 tsp vanilla extract
2 eggs
4 TBSP butter, melted and cooled
Instructions
In a large mixing bowl, add the flour, cornstarch, sugar, baking powder, baking soda, and salt. Whisk well to combine and aerate.
Make a well in the center of the dry ingredients, add the cream, milk, oil, vanilla and eggs.
Whisk gently until just combined. Then whisk in the melted butter but do not over mix. The batter is supposed to have lots of visible little lumps, but no dry pockets.
Let the batter sit at room temperature for 5 to 10 minutes before using. Generally, this is long enough to preheat your waffle maker.
! Preheat your waffle maker, and cook the waffles according to the manufacturer's instructions (see notes).
Makes Four 8″ Belgian Style Waffles (see notes)
Notes
My Belgian waffle maker makes 7.5″x1″ round waffles and uses one scant cup of batter per waffle. Using this recipe I end up with 4 waffles and a tiny bit of batter leftover. I like my waffles browned evenly all over, but not dark. So, I cook My waffles for 7 to 8 minutes on a medium setting.
These freeze well, just cool to room temperature on a cooling rack before freezing.
Reheat frozen waffles in the toaster or oven, no need to defrost first.
These also make nice dessert waffles. I like them with >Roasted Strawberries< and whipped cream, or I add 1/2 teaspoon of cinnamon to the batter, then serve them with apple sauce and vanilla ice cream.