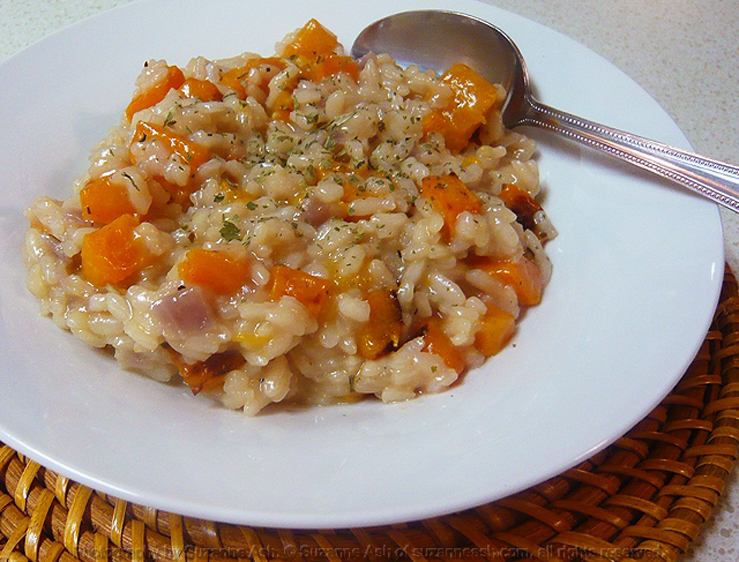 My family did something different for Thanksgiving this year, we met up at a Casino and had an all-you-can-eat buffet. No one had to cook or clean up, everyone ate too much and had a good time. You really can't do better than that!
Anywho, the buffet had this squash risotto that my husband and I just loved. So, I decided to make some and it has become a new favorite. I know the last thing anyone wants during the holiday season is to make a laborious meal if they don't have to but it is really delicious, comforting and filling so I think it is worth the effort.
Ingredients
1 butternut squash (about 2 lbs)
Olive oil
Kosher salt
32 oz chicken stock (low sodium if store bought)
4 TBSP butter
1 medium sized red onion, diced
kosher salt
1 tsp minced or grated fresh garlic
1/2 tsp dry rosemary
1c arborio rice
1/4c dry vermouth
1/2c freshly grated parmesan cheese
Freshly ground black pepper, to taste
Instructions
Preheat the oven to 450f and line a baking sheet with foil.
Peel, rinse, dry and then dice the squash into 3/4″ pieces.
Toss with olive oil to coat, lay in a single layer on the prepared baking sheet and sprinkle with salt.
Bake in the middle of the preheated oven for 30 to 45 minutes (depending on your squash and oven), or until very tender but not falling apart.
Meanwhile, put the stock into a pan over medium heat, bring to just below a simmer and keep it at that heat.
In a large heavy bottom pot or dutch oven over medium heat, melt the butter with a drizzle of olive oil.
When the butter is fully melted, add the onions and sprinkle them with a little salt.
Saute gently until softened, about 5 to 8 minutes.
Stir in the garlic and rosemary, crushing/crumbling the rosemary between your fingers as you add it.
Let cook for 2 minutes, then add the rice and stir to coat.
Add the vermouth and stir constantly for 2 minutes.
Add a ladle of the stock and stir. The rice should be soupy not dry, add more of the stock if it seems dry.
Cook the rice stirring frequently, until the stock is mostly absorbed (about 5 to 8 minutes).
Maintain a gentle simmer and continue to add the stock a few ladles at a time, letting the rice absorb most of
the liquid before adding more. Stir well and often.
NOTE: The rice should never get dry or stick to the pan.
Continue until the rice is cooked through and soft but not mushy, about 30 minutes.
Stop adding stock when the rice is cooked to your liking.
Remove the risotto from the heat, stir in the cheese and pepper to taste.
Fold in the roasted squash, taste and adjust the seasoning if needed.
Makes 4 Main Dish Servings or 8 Side/Starter Servings