I think people of a certain age (or older) tend to appreciate a good woven or macrame plant hanger a lot more. I have a large Arrow Head plant (Syngonium)  hanging by a macrame hanger in my living room. The only person who has ever comment on the hanger is my neighbor who is a bit older than me. She loved it. These days they don't even sell them in regular stores. If you like them, you have to hunt them down in thrift stores and garage sales. My homemade version isn't fancy, but it is quick, easy and cheap to make. If you enjoy this sort of project you can experiment and make much fancier versions using thicker twine or yarn or ribbon. You could also weave in beads or other embellishments. I've got a few fancier versions in my garden, which I'll share with you in another post. I have an alternate usage for these hangers too, which I'll also share in another post.
What I used…
Hyper Tough Household Twine (I got mine for less than $1 at Walmart for 150-foot roll)
Keychain (loops) Findings (I got mine for less than $4 for 80 pieces available in the craft section of Walmart)
8-inch Terracotta pot & saucer (I got my pot at Dollar Tree & the saucer at Homebase for $1.40)
How I did it…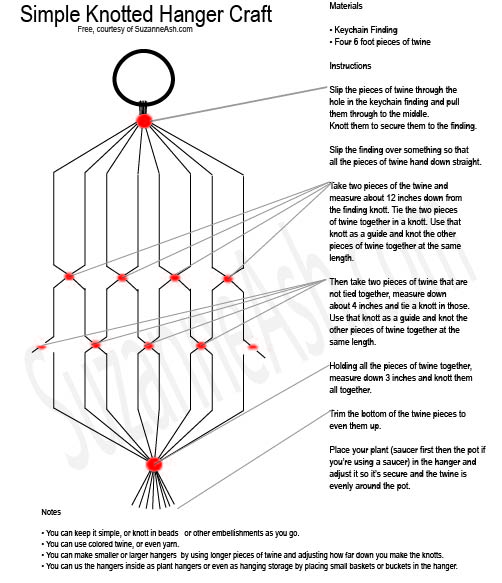 That's it. that's all there is to it!