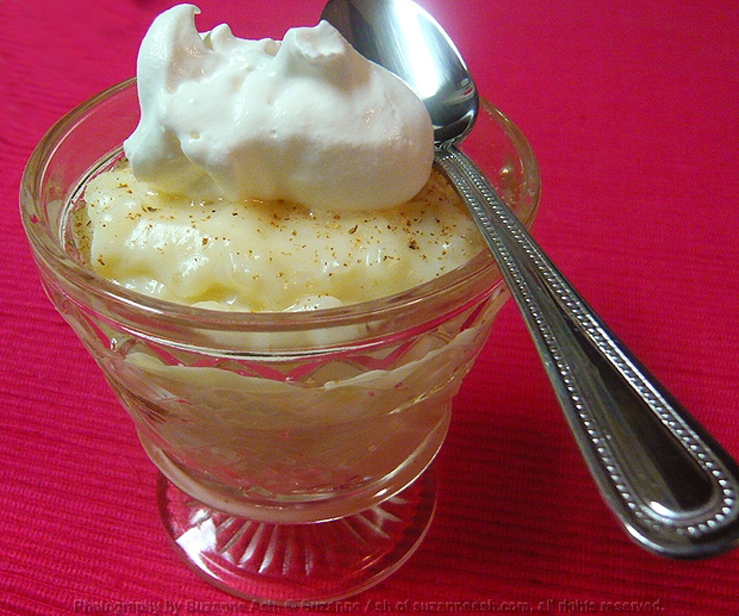 I've never understood why people who like vanilla pudding/custard or rice pudding say they don't like tapioca pudding. My husband says it's because of the texture. I just don't find the texture that different from any other pudding, especially rice pudding. Still, it seems to be one of those things you either love or hate. I've always loved it…
I looked forward to eating bowl after bowl of pudding at school, myself and just a few other kids would keep going back for more until they ran out or closed the kitchen. The lunch ladies made it in huge vats, despite the fact that only myself and a few other kids would eat it. Sweet, creamy and warm with some sort of fake whipped cream topping like Dream Whip… seriously, what was not to like?
I sometimes order it in diners or buy it pre-made from a store, but it never really tastes exactly the way I wanted it to. And though I know I can get instant tapioca pudding, the old fashion small perl (I've moved on to php, I need to forget that spelling!) pearl slow cooked is my favorite. I rarely make it because it's such a PITA (first definition) and generally no one else will eat it. Plus I end up pigging out on it like I'm still an elementry school girl that disappears when she turns sideways.
So even though it still seems to be a favorite of no one but me, every now-and-then I just have to have the real homemade stuff. There is no getting out of soaking the pearls first (see notes), but this slow cooker method is a perfect way to get the old fashioned taste and texture without a huge risk of burning it or having to pay to much attention to it while it cooks… as long as you don't forget to stir it, it will be perfect every time.
Ingredients
1/2 cup tapioca pearls, I use Winco Bulk Bin #1843 (NOT INSTANT)
3 cups milk (I use low fat 1% or 2%)
1 cup heavy whipping cream
2 eggs
2 tsps vanilla extract
1 cup granulated white sugar
fresh grated nutmeg (optional)
whipped cream or whipped topping (optional)
Instructions
Put the tapioca pearls into a deep bowl, cover with about 4 cups of cold water, put on a lid or cover with plastic wrap and leave for a few hours, or up to 12 (I always soak them overnight) at room temperature
Drain (don't rinse) the pearls well and put them into a slow cooker on low.
Put milk, cream, eggs, vanilla and sugar into a blender (I use a beaker and immersion blender) and blend until smooth. Pour over the tapioca pearls and whisk gently to combine. Put on the lid.
Cook the pudding for 3 to 4 hours on low, depending on your slow cooker's idea of low (my new slow cooker is a lot hotter on low then my old one). You MUST whisk gently but thoroughly every 30 to 45 minutes if you want a nice creamy pudding.
Once the pudding is to your desired thickness, turn the cooker off and leave the pudding to cool in the cooker for about an hour. It will thicken up a little bit more as it cools but not much.
Serve warm, or refrigerate and serve cold.
Makes 6 Generous Servings – Excellent served plain or with a little fresh nutmeg grate over and/or a dollop of whipped cream/whipped topping
Notes
Some people say they don't soak the pearls and don't find it affects the recipe
Some people lie