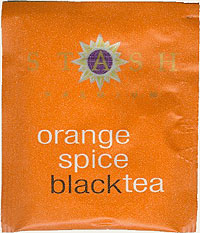 I know I sang the praises of Red Rose Tea and professed my love for Bigelow's Constant Comment Tea back in April but that was before I discovered Stash Teas!
At the grocery store I shop at there is a rather substantial section of unpackaged/bulk items that are remarkably cheap and I love it. I am able to buy special ingredients for things I want to try making or only make now and then without having to fork out a ton of cash on a large package that I don't end up using so it is wasted… But in addition to the flours, grains, spices and seasonings (just to name a few) they also have a selection of Stash teas.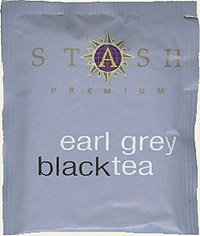 My husband loves Earl Grey tea, it is his favorite. But he hadn't found a brand in the US that he was satisfied with. I like the Constant Comment, but I find it a little pricey for anything more than an occasional treat. So on one particular shopping trip we noticed the end-cap display of Stash teas and decided to try them. As it turns out, their Earl Grey is now my husband's new favorite and the Orange Spice Black Tea has replaced Constant comment as my favourite. I've tried a few of the other flavors of tea that they have, and while they were all nice I haven't tried even half of their selection, and to be honest I am pretty happy with just my regular plain black tea and the Orange Spice Black Tea, except for the Chai Spiced Black Tea ….
I'd only had Chai tea in coffee bars or restaurants, and had always thought of it as something you order while out or something you spend more time than it is worth preparing. However, with the Stash Chai Spiced Black Tea it's just a few minutes and it taste as good as anything I've ever had like it.
We still drink Red Rose Tea as an everyday tea (hot and iced) but at least one of my cups of tea is the Orange Spice Black Tea and I look forward to it. Because the Chai Spiced Black Tea is a little rich we mostly just have it a few times a month. Below is a "recipe" (which is more of a serving suggestion) for how I prepare it. If you don't know what it is and have never tasted it, it is black tea, cinnamon, ginger, cinnamon, allspice, clove, nutmeg and cardamom steeped, then brown sugar and cream is added. Though some people put other things in (like star anise and pepper corns), the Stash Chai Spiced Black Tea blend of warm autumnal spices that they use is just how I like it.
So if you see Stash tea, give it a try! I'm sure if you like tea in general there will be one of their flavors you'll love.
Chai Spiced Black Tea – Makes Approximately 4 x 6-Ounce Servings
4 bags of Chai Spiced Black Tea
3 cups of recently boiled water
¼ cup of dark brown sugar
¼ cup of half & half
Instructions
Steep the tea in the boiled water for 4 minutes, remove the tea bags and give them a gentle squeeze to get all the flavor out of them.
Add the sugar and whisk until completely dissolved.
Add the half & half and stir until well blended.
Serve immediately or cool and serve over ice.