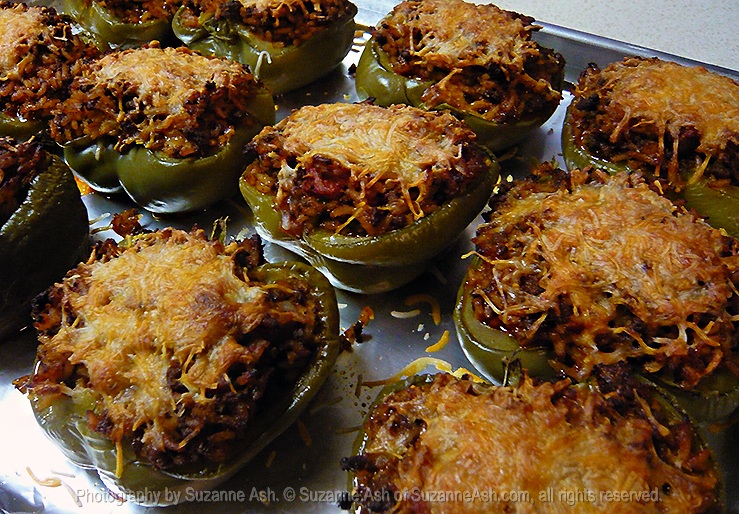 When I was younger I used to buy packaged Spanish Rice mix (the San Francisco treat kind) and make basically the same recipe. Then, around 2001 when I no longer had access to that packaged rice mix I decided to make this from scratch. I'm so glad I did! Everyone that has had it loves it. Plus, it's easy to make for a crowd and inexpensive if the peppers are in season.
Ingredients
1 TBSP olive oil
1 yellow or white onion, chopped
1 lb lean or extra lean ground beef (or turkey)
2 tsp minced fresh garlic
1 tsp sweet paprika
2 tsp chili powder
1 tsp ground cumin
2 tsp dried oregano
1 TBSP Worcester sauce
8 oz beef stock
8 oz tomato sauce
14 oz can of diced tomatoes in juice
Salt & pepper to taste
1 cup converted rice or other long grain rice (see notes)
6 large or 8 small bell peppers (any color)
1&1/2 to 2 cups grated Colby jack cheese or cheddar
sour cream, beans & tortillas to serve (optional)
Instructions
Heat a large pot over medium heat, when hot add the oil.
Add the chopped onion and saute for 5 minutes, until soft but not browned.
Turn the heat up to high and add the ground beef.
Cook and stir until no longer pink. Breaking up the beef as it cooks.
NOTE: If you don't use lean meat you'll need to drain off the fat before proceeding to the next step!
When the beef is cooked through, stir in the garlic, paprika, chili powder, cumin, and oregano.
Add the Worcester sauce, beef stock, tomato sauce & undrained diced tomatoes.
Stir well, and bring the mixture just to a boil then turn back the heat down so that the mixture simmers.
Add salt and pepper to taste, and when you are happy with the flavor, add the rice and stir gently for 3 minutes.
Then put on a tight fitting lid (so no steam escapes) and turn the heat down to the lowest setting.
Leave to cook undisturbed for 20 minutes, then remove from the heat and leave to sit for 20 minutes (without removing the lid).
Remove the lid and stir gently.
Prepare the Peppers for Stuffing
Rinse the peppers thoroughly and slice in half. Clean out the seeds and membranes and rinse again.
You will need to either parboil the pepper halves just until they are soft, or you can put each pepper together cut side to cut side (resemble them) and place them in a plastic bag and poke just one or two toothpick size holes to vent.
Microwave them on high for 5 minutes, turn them over (careful it's hot!) cook them 5 more minutes and then let them sit in the bag in the microwave for 5 more minutes. Carefully remove them from the bag with tongs, and empty out any water that has pooled inside. Place them cut side up on a towel and let them cool until they are comfortable to handle.
Assemble and Bake
Place the pepper halves onto a foil lined baking sheet. Put a big pinch of the cheese in each pepper half. Then add a heaped tablespoon of the rice mixture to each pepper half. Repeat this process usually just 3 layers) until you have used up all the filling. Really stuff the peppers! Try to fit all of the fillings into them (see notes). Finish with a large pinch of cheese on the top.
After the peppers are assembled, you can cook them right away in a preheated 350c oven for 40 minutes, -OR- you can refrigerate the peppers for a day or two. Be sure to lightly oil the plastic wrap before you cover them.
If you do chill the peppers before cooking them, set them out for 20 minutes prior to cooking them and then place them in a cold oven. Heat the oven to 350c and bake for 45 minutes.
This recipe makes 12 to 16 pepper halves – Serve with sour cream, beans & tortillas
Notes
Any long grain rice works, but the converted rice works the best.
You could remove the pepper tops and fill the whole pepper instead of cutting them in half.
Sometimes I cut up a few peppers and add them in with the onions, and skip the pepper stuffing part altogether.
If there is any leftover filling, stuff it in your mouth when no one is looking. That's what I do with it!