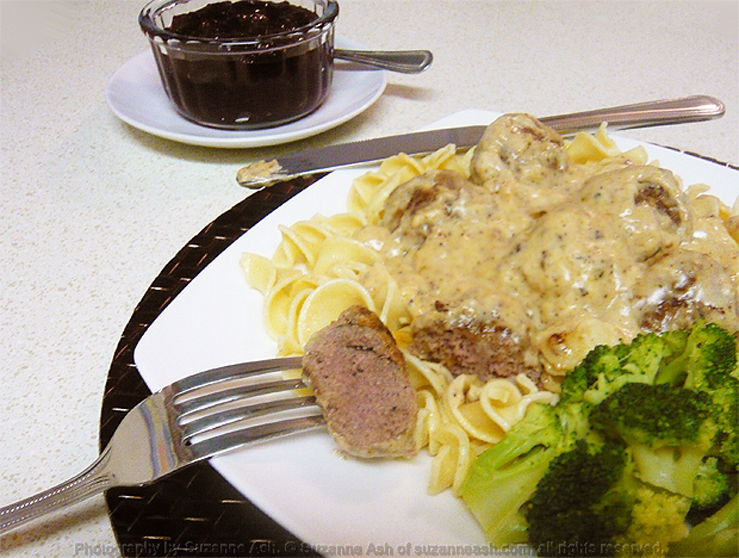 I added the "ish" because I would not presume that this is a totally authentic recipe. I am not from Sweden, I have never been to Sweden, and despite having Swedish friends, none of them have ever made these for me. Oh, and according to IKEA (the Scandinavian cultural authority – yes I'm kidding) they are traditionally served with lingonberry sauce, which can be either very hard to find or just a bit to pricey. However, easy to find and inexpensive cranberry sauce works to compliment the meatballs in a similar way.
Ingredients
2 slices of white bread
4oz/125ml milk
1 egg
1/2 tsp salt
1/4 tsp white pepper
1/2 tsp onion powder
1/2 tsp ground allspice
1/4 tsp nutmeg
1lb/450g ground/minced beef or turkey
2 TBSP butter
2 TBSP olive oil
2 TBSP plain white all-purpose flour
8oz/250ml hot chicken stock or broth
4oz/115g sour cream
Egg noodles, prepared according to manufacturers instructions and tossed with
butter (optional – see notes)
Cranberry or Loganberry sauce (optional)
Instructions
Put the bread slices in a small bowl and pour over the milk. Let stand for 2 minutes and then add the egg, salt, pepper, allspice and
nutmeg. Mix well with a fork to create a paste.
Place the beef in a large bowl and add the spiced bread paste. Mix thouroly (hands are best for this job) and then let stand at room
temprature for 3 minutes. Divide into 24 equal sections and roll into balls.
Heat a heavy skillet over medium high heat, add the butter and oil and once the butter has melted, add the meatballs and fry
turning often until browned on all sides and cooked through. Remove the meatballs to a plate and set aside.
Whisk the flour into the fat and dripings left in the pan. Once the flour and fat are combined, add the stock slowly (just a trickle)
while whisking constantly.
When all the stock has been added, remove the pan from the heat and whisk in the sour cream. Return the pan to the heat and add
back the meatballs and any juices. stir gently and coat the meatballs in sauce. Simmer gently for 5 minutes.
Makes 4 to 6 Servings (4 to 6 meatballs per serving) – Serve over buttered egg noodles with cranberry or lingonberry sauce on the side.
Notes
This dish is also good served with rice or mashed potatoes.
When combining the bread, milk and spices a mini chopper/food processor works really well to create a smooth mixture.
If you want to substitute ground/minced turkey for the beef, cut the milk down to 2oz/60ml.
I never seem to be able to roll perfectly round meatballs, but dividing them up equally, rolling them and then refrigerating them for 15 to 20 minutes before re-rolling them with wet hands seems to give them a rounder smoother finish.
You can make the uncooked meatballs ahead of time and refrigerate them until needed, or freeze them in an airtight container for a couple of months.