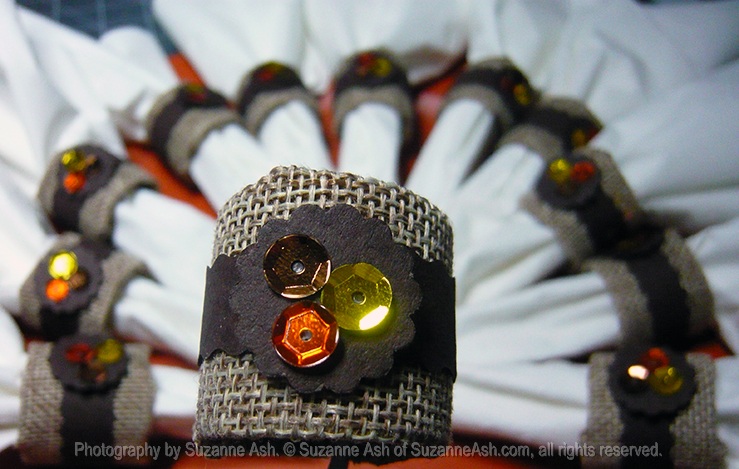 For thanksgiving this year, my granddaughter and I made some really simple and easy napkin rings. Our family's Thanksgivings are pretty informal so our design is not fancy, but they are nice and we enjoyed making them together.
Just so you understand, this isn't a tutorial or how-to, it's just me telling you what we used and how we use it. You could easily make the exact same ones as we did, or you could get an idea of your own. Either way, I hope you enjoy the post.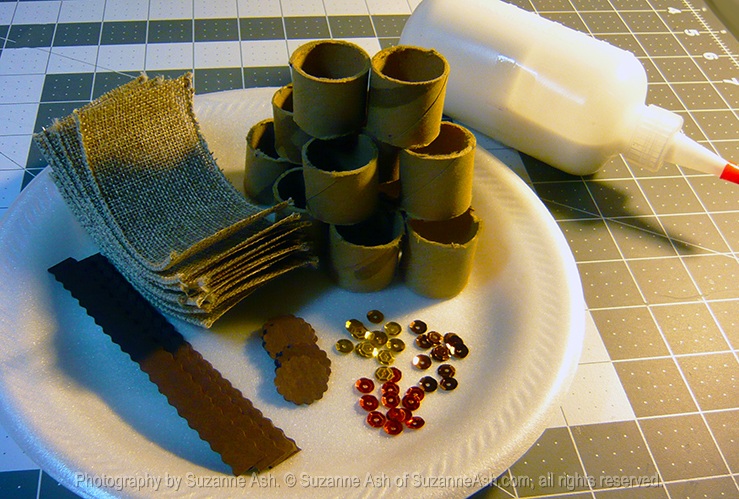 Materials…
1 cardboard tube from the center of a roll of plastic wrap, cut into (approximately) 1″ pieces
Burlap florist ribbon from the DollarTree store, cut into pieces that would wrap around out cardboard tube pieces and overlap
Thick brown cardstock from a multi-pack bought on amazon, wavy-cut into strips that would wrap around the burlap and overlap + punched round scallops
Multi-color sequence from the DollarTree store
Aleene's all purpose turbo tacky glue
White paper napkins (not pictured with materials)
What we used to prepare our materials…
Scissors
X-acto craft knife
Ek tools 3/4 inch scallop circle punch
Fiskars scallop paper edger scissors
How we put them together we…
Wrapped a burlap strip around one of the cut pieces of cardboard tube and tucked in the sides. They didn't need to be glued because the edges have a thin piece of wire in them so they bent and held their shape.
Wrapped a strip of wavy brown paper around the burlap, centered it and matching up the seams, then secured it with the glue.
Glued sequence to the center of the scalloped circle, we used 3 "thanksgiving" colors in a triangle pattern.
Glued the scalloped circle to the center / opposite side of the seam on the wavy paper strip.
Repeated with the other 11 pieces of cardboard tube.
Left them to dry overnight.
Pushed paper napkins though each holder.
Above | Alex modeling the napkin rings + sneaking up on the napkin ring
Below | The napkins with their rings on.